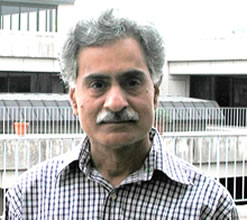 Jilani Chaundry
UTSA researchers awarded record $178,000 from SAAF
By Kris Rodriguez
Public Affairs Specialist
(Aug. 1, 2005)--Ten UTSA faculty members have been awarded more than $178,000 in grant funding by the San Antonio Area Foundation (SAAF).
In the past five years, SAAF has awarded more than $600,000 to 39 UTSA researchers.
---
Today's headlines
Article tools
---
"We appreciate the continuing support of the San Antonio Area Foundation to fund the research projects we have underway in various disciplines," said Joseph Stafford, UTSA vice president for research and graduate studies. "Over the years, our faculty have used these grants as start-up funds that have assisted in acquiring larger amounts of federal funding to complete their research projects."
Since its inception in 1964, the foundation has awarded more than $65 million in charitable distributions and overseen $110 million in assets. SAAF seeks to significantly enhance the quality of life of the San Antonio community by providing outstanding service to donors, producing significant asset growth, strengthening community collaboration and managing an exemplary grants program.
The foundation combines gifts and bequests from many individuals, families and corporations into grant awards and funds projects in education, medical services, health care, environment, arts and culture, community and social services, animal services, historic preservation, visual services and research and biomedical research.
------------------------------
2005 San Antonio Area Foundation Grants
Bonny Johnston, Institute of Texan Cultures - $5,900 (Texas Trails and Tails)
Jennifer Ganz, Interdisciplinary Studies - $9,300 (Special Education Professional Development for San Antonio Professionals)
Raul Reyna, Extended Services - $25,000 (San Antonio Prefreshman Engineering Program)
Steve Tomka, Center for Archaeological Research - $4,000 (Legacy: Hands on the Past)
David Hanson, History - $4,400 (San Antonio Regional History Fair)
Thomas Coyle, Psychology - $29,950 (Can Cognitive Tests Predict Brain Indicators of Mild Cognitive Impairment and Alzheimer's Disease?)
Carlos Garcia, Chemistry - $20,000 (Detection of Phenolic Antioxidants Using Microchip Capillary Electrophoresis)
Jeffry Nyman, Mechanical Engineering and Biomechanics - $23,622 (Aging Effects on Bone Quality)
Jilani Chaundry, Biology - $35,000 (Analysis of the Human Receptors Receptors for Anthrax Toxin)
Martha Lundell, Biology - $20,876 (The Role of ZFH-2 in DNA)