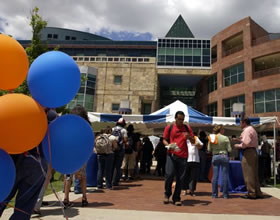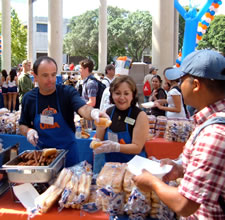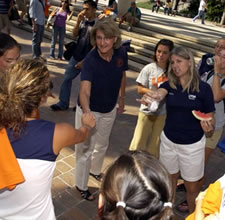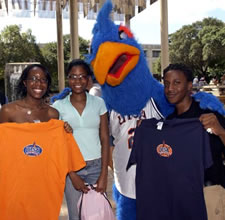 UTSA Spirit Rally Lunch
Welcome to UTSA! Roadrunner Days continue with Spirit Rally Lunch
(Aug. 24, 2005)--The UTSA community gathered today for the Roadrunner Spirit Rally Lunch at the 1604 and Downtown campuses. Administrators and staff members gave out free T-shirts and served free hot dogs, egg rolls, watermelon, chips and beverages to students, faculty and staff members, and their friends.
Pictured at the Downtown Campus, (top row) the festive atmosphere is set with balloons and food tents. UTSA President Ricardo Romo greets students at the beverage table. In the second row, participants find a cooler place in the shade to relax and enjoy lunch, as Jesse Zapata, vice provost for the UTSA Downtown Campus and dean of the College of Public Policy, serves watermelon slices.
Pictured at the 1604 Campus, (third row) David Gabler, assistant vice president for university communications, and Grace Hernandez, director of institutional diversity, serve hot dogs to the crowd, as Lynn Hickey, UTSA director of intercollegiate athletics, greets students. In the bottom row, UTSA mascot Rowdy Roadrunner and students show off their new T-shirts, and Kevin Price, newly appointed UTSA assistant vice president for student life, serves food to partcipants.
The events are part of Roadrunner Days, running through Aug. 25 at the UTSA campuses. See a schedule of Roadrunner Days events.