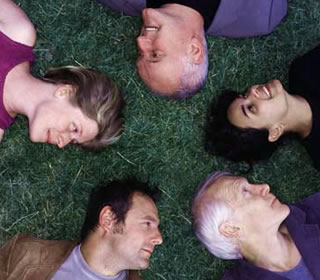 Actors from the London Stage
UTSA hosts Actors from the London Stage in Shakespeare's 'Twelfth Night' Sept. 21, 23, 24
By Kareem El Dahab
Student Writer, College of Liberal and Fine Arts
(Sept. 19, 2005)--The UTSA Friends of Shakespeare and the Department of English, Classics and Philosophy host a return this week of Actors from the London Stage (AFTLS). The touring ensemble of five British actors will perform Shakespeare's "Twelfth Night" at 7:30 p.m., September 21, 23 and 24 in the Arts Building Recital Hall at the UTSA 1604 Campus.
Editor's Note -- 1 p.m., Sept. 23 update: The Sept. 23 and 24 performances will proceed as scheduled despite the possibility of inclement weather.
Tickets are $18 for general admission, $10 for students with student ID, and are available at the University Center information desk on the 1604 Campus. Tickets also will be available at the door; all seats are reserved. For more information or student group bookings, call (210) 458-5358.
---
Today's headlines
Article tools
---
Actors from the London Stage visits selected American universities each year to perform and conduct classes and workshops. In the company's 19th visit to UTSA, the residency is supported by a grant from the Russell Hill Rogers Fund for the Arts.
The comedic play, "Twelfth Night" is an ensemble of love-crazed characters that interact wildly with one another in a story of mistaken identities in the city of Illyria. A young, shipwrecked maiden named Viola arrives on the shores of the city with no provisions or male accompaniment -- a result of her twin brother's death in the shipwreck.
Viola takes up the disguise of a young man named Cesario to work in the court of the Duke Orsino. The Duke is madly in love with the elusive Lady Olivia, whose uncle, Sir Toby Belch, is more of a drunken burden than a family member. Problems arise when Lady Olivia falls in love with Cesario, who really is Viola in disguise. Viola falls in love with Duke Orsino. Further problems surface when Viola's twin brother, Sebastian, turns out to have survived the wreck and arrives in the city to be mistaken for his sister.
The AFTLS actors are Chris Donnelly, Claudia Elmhirst, Peter Harding, Richard Howard and Rina Mahoney, who come from such prestigious companies as the Royal Shakespeare Company, the Royal National Theater of Great Britain and Shakespeare's Globe Theater. The performers play multiple roles in a production that uses an uncut script, simple costumes and minimal scenery with an emphasis on the richness of Shakespeare's language.
Actors from the London Stage is an international touring theater organization based at the University of Notre Dame. It combines the talents of professional actors onstage with opportunities for students to work with them in the classroom. Covering a vast range of topics, AFTLS residencies have brought Shakespeare to life all over America for more than 28 years.
During the weeklong residency, two lecture/recitals will be presented, free and open to the public:
Tuesday, Sept. 20, 11 a.m. "Romantic Poets: Lords of Misrule," featuring Peter Harding, Business Building Room 2.06.04, 1604 Campus
Thursday, Sept. 22, 11 a.m. "Dr. Johnson's Time Traveler," featuring Chris Donnelly, John Peace Library Building Room 4.03.08, 1604 Campus