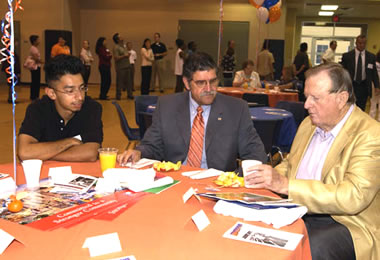 At the SECC Champions breakfast, UTSA student and United Way beneficiary
Armando Romero (left) visits with UTSA President Ricardo Romo (center)
and businessman Red McCombs.
(Photo by Mark McClendon)
Close-up: UTSA student puts a face on SECC
By Lesli Hicks
Special Projects Writer
(Sept. 8, 2005)--Ask UTSA sophomore Armando Romero why UTSA employees should support the State Employee Charitable Campaign (SECC), and he'll tell you he lives the answer.
Romero, 20, an undeclared major, was a special guest at the Breakfast of Champions kickoff Thursday honoring UTSA employees who avidly support the annual fund-raising drive which benefits United Way and other helping agencies.
---
Today's headlines
Article tools
---
"I had it hard growing up," he said, after presenting San Antonio business leader Red McCombs a framed sketch he drew. Until recently, Romero earned extra money selling such portraits at Market Square. He now has a lab assistant post at the University of Texas Health Science Center while juggling classes.
The oldest of four sons and three daughters, Romero was born in impoverished East Los Angeles. Three years ago, his janitor father and stay-at-home mother relocated the family to the Alamo City, specifically to get away from the temptations and dangers of gang life.
"It was a good decision," Romero said evenly.
But until Habitat for Humanity completes a house for his family, they live downtown in the well-known San Antonio Metropolitan Ministries (SAMM) shelter. United Way of San Antonio and Bexar County supports Habitat and SAMM.
Communal living in clean, but transitional housing has its challenges, Romero said, but he still is living his dream, attending UTSA on a full grant and studying hard.
"I think this experience has made me dream bigger," Romero said.
He knows people can choose whether to give to organizations such as United Way, but said he is living proof the dollars change lives, and ultimately the community at large.
"It's easy to get into a gang in L.A. They just come up to you and ask you to join," he said. "There's stealing and killing and drugs in that life, and a majority of kids in my old neighborhood are in them. I want to finish my education and have a positive influence on the world."
Notably, Romero's temporary home, the SAMM shelter, is an eligible organization for UTSA employee contributions during the university's annual SECC campaign, which runs through Sept. 23.
To donate, complete and return your enrollment form to your department's SECC Champion or donate online.