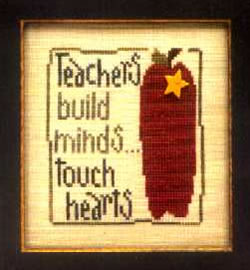 UTSA works with districts to solve teacher shortage
By Leigh Anne Gullett
Public Affairs Specialist
(Sept. 27, 2005)--Recent college graduates or second-career professionals interested in using their math and science skills in a high school classroom at a high-need San Antonio school are encouraged to apply to the Accelerated Teacher Education Program (A-TEP) offered at The University of Texas at San Antonio.
The deadline for applications is Oct. 15, and the program begins with the spring semester.
---
Today's headlines
Article tools
---
Participants in the program receive $4,000 in scholarship money to cover books, tuition and related fees in exchange for a commitment to teach in a high-need San Antonio school for three years. The students enroll at UTSA and take 27 credit hours of courses. The credit hours can count towards a master's degree.
The federally funded program targets recent college graduates or second-career professionals, such as retired military, with expertise in math or science where the national teacher shortage is especially pronounced. Applicants on schedule to earn a bachelor's degree in December can apply for admission to the program.
In Texas, 32 percent of high school science teachers are teaching out of their chosen field, while 39.6 percent of middle school math teachers are out of their field, according to the Texas Education Agency. The TEA, located in Austin, is the administrative unit for primary and secondary public education in Texas.
Participants in the UTSA program will volunteer or substitute teach in one of the partner school districts (San Antonio, Edgewood, Harlandale and Southwest).
A-TEP students will be employed by one of the participating schools and attend program workshops throughout the year with continuous teaching evaluation and support offered through UTSA. Teachers also gain intensive mentoring support through the following two years.
Applicants must have a bachelor's degree in math or science from an accrediteduniversity, along with two letters of recommendation and a cumulative GPA of 2.5 or 2.75 over the last 60 credit hours of college.
Participants who wish to apply course work toward a master's degree must maintain a 2.75 GPA. Additional criteria include a completed application form; documentation of reading, writing and math abilities; acceptable scores on the self-reporting portion of Fitness for Teaching; a passing score in a content-area test and, for graduates from foreign universities, an acceptable score in the TOEFL.
For more information, visit the A-TEP Web site or contact Abraham Dominguez, project director, at (210) 458-6170.