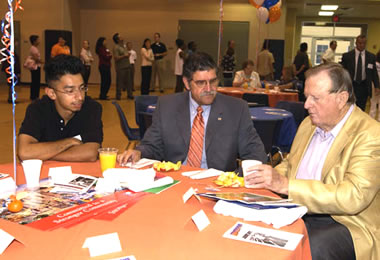 Photos by Mark McClendon
UTSA employees can be SECC pacesetters
By Lesli Hicks
Special Projects Writer
(Sept. 7, 2005)--United Way - not cereal - was on the menu Thursday as UTSA President Ricardo Romo and San Antonio businessman Red McCombs honored the agency's biggest backers at the Breakfast of Champions -- the kickoff for UTSA's 2005 State Employee Charitable Campaign (SECC).
Romo and McCombs said UTSA employees who support United Way are champions akin to the San Antonio Spurs. As such, it is they who are spreading the good word.
"You're going to help us be pacesetters," Romo told the 150 faculty and staff participants rallied from across UTSA's three campuses. Nationally, United Way bestows the "pacesetter" title to distinguish corporate and institutional supporters who lead in its annual fund-raising.
---
Today's headlines
Article tools
---
Pictured at left, (top) UTSA student and United Way beneficiary Armando Romero visits with UTSA President Ricardo Romo and businessman Red McCombs. In the middle photo, are Breakfast of Champions participants. In the lower photo, a Champion picks up SECC packets for employees in her work group.
"These are dollars that hit home," said Romo. "For example, five-hundred people from UTSA got help from SECC in recent months."
It's a sentiment echoed by McCombs. "United Way is the most efficient and effective way for UTSA employees to give back to the community," he said. "Although we don't often feel such a disastrous impact as Hurricane Katrina had on Louisiana and Mississippi -- we have tragedies every day that are eased by United Way support."
"Employees wondering, 'How much should I give?' should give until they feel good about it, not mad about it," McCombs added. "If we debate the amount too much, likely we aren't giving enough."
Dubbed "United Way Movement Ambassadors," the breakfast participants left with orange "Ask-Me-About-SECC" buttons, as "We Are the Champions" played in the background.
"We are a city of champions -- home of the National Basketball Association champs, the Spurs," said Albert Carrisalez, 2005 chair of UTSA's SECC. "UTSA employees also have the opportunity to be champions in the community by giving to SECC agencies."
SECC offers UTSA employees the choice of participating through a monthly payroll deduction or a one-time gift by cash or check. United Way of San Antonio and Bexar County administer the donations. UTSA's charitable campaign runs through Sept. 23.
UTSA employees who have benefited from an SECC-affiliated agency or charity are encouraged to share their stories with the UTSA community by contacting Albert Carrisalez at (210) 458-5138.