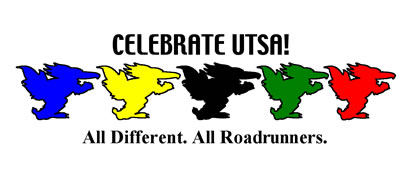 UTSA to celebrate diversity at new event Nov. 17
By Tim Brownlee
Assistant Director of Public Affairs
(Sept. 29, 2005)--The UTSA Office of Student Activities and the Office of Institutional Diversity will host the inaugural "Celebrate UTSA!" event from 4 to 8 p.m., Thursday, Nov. 17 on the Convocation Center east lawn at the UTSA 1604 Campus.
With the theme, "All Different, All Roadrunners," the event will celebrate the diversity of UTSA students, faculty and staff in an evening of music, dance, skits, cultural traditions and personal stories.
---
Today's headlines
Article tools
---
UTSA community members are invited to register to host tables with information about organizations or displays about cultural traditions. Tables will be available for set-up at 3 p.m. the day of the event.
Another way to participate is a showcase from 6 to 8 p.m., which will highlight cultural traditions through music, dance, skits and telling of personal stories. Dat Phan, the original "Last Comic Standing," will emcee the event and perform in the showcase.
No matter what your experience, it probably is relevant to the event. For those participating, there will be a short coordinating meeting at 4 p.m., Nov. 16; registered participants will be contacted regarding the location.
To register for a table or the showcase, download the registration form. The registration deadline is Oct. 17; submission details are on the form. Shortly after the registration deadline, participants will be notified of a short planning meeting to ensure smooth staging of the information fair and showcase.
For more information, contact Antonio Mills at (210) 373-2287 or Barry McKinney at (210) 458-4160.