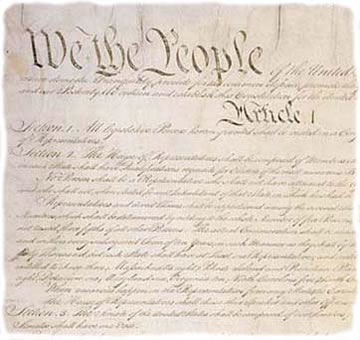 U.S. constitution
UTSA hosts conference on Constitution Day, Sept. 21
By Tim Brownlee
Assistant Director of Public Affairs
(Sept. 20, 2005)--The UTSA Office of Student Activities will host a free, live, interactive audio conference, "The Constitution: Exploring the Scope of Student and Faculty Academic Freedom," from noon to 1:30 p.m., Wednesday, Sept. 21.
The audio conference will be simulcast in the University Center Laurel Room (2.01.28), 1604 Campus, and in the Buena Vista Street Building Meeting Assembly Room (1.338), Downtown Campus. UTSA community members are encouraged to bring a lunch and learn -- drinks and desserts will be provided.
---
Today's headlines
Article tools
---
At the audio conference, participants will learn:
What academic freedom is and if there is such a thing as "freedom to learn" as a component of academic freedom for students
Who can make academic freedom claims
How to determine if students have academic freedom in the classroom and what are its limits
How "indoctrination" is distinguished from "good teaching"
In what situations academic freedom shields professors from "hostile environment" sexual harassment claims in the classroom
For more information, contact the Office of Student Activities at (210) 458-4160 (1604 Campus) or (210) 458-2816 (Downtown Campus).
------------------------------
President George W. Bush signed into law on Dec. 8, 2004, Public Law 108-447, which established Sept. 17 as Constitution Day and requests an educational program in all federally funded institutions. Constitution Day was informally celebrated beginning eight years ago at locations around the nation, where the preamble to the U.S. constitution was read aloud at various events. Read more about Constitution Day.