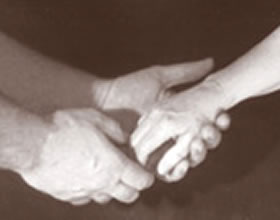 Helping hands
Charitable campaign extended to Sept. 30
By Marianne McBride Lewis
Associate Director of Public Affairs
(Sept. 23, 2005)--Albert Carrisalez, UTSA's 2005 State Employee Charitable Campaign (SECC) chair, conducted an SECC President's Advisory Committee meeting Wednesday, Sept. 21 to update members on the success of the campaign to date. At that time, 23 UTSA departments could boast 100-percent participation in the campaign -- which means everyone in the participating departments contributed something to SECC.
With an extended deadline of 5 p.m. Friday, Sept. 30, Carrisalez encourages all UTSA employees who have not yet donated to SECC to consider giving to help boost the UTSA participation rate. Higher participation means more people will be helped. Additionally, SECC donations are a great way to help hurricane victims.
---
Today's headlines
Article tools
---
As a thank-you to employees who have already given and an incentive for those who are still on the fence, an SECC door-prize program was announced.
"We want to say, 'Thank you for caring,' to those who have already donated to SECC," said Carrisalez. "And, it's still not too late to make a donation, if you haven't done so."
Employees who donate to SECC, either online or by filling out the paper form, will be entered into a random drawing to win one of several door prizes. The drawing will be Wednesday, Oct. 12 at the final SECC President's Advisory Committee meeting. Winners will be notified by e-mail.
SECC donors will have a chance to win:
Two tickets to a 2005-2006 Spurs Game
Signed photograph by Julius Gribou, College of Architecture dean
Signed photograph by UTSA President Ricardo Romo
A one-hour massage at the UTSA Recreation and Wellness Center (prize awarded to two employees)
One fitness assessment at the UTSA Recreation Center
One package of 10 meal tickets redeemable at the Roadrunner Cafe
One UTSA sweatshirt from UTSA Book Store
One UTSA goody basket of UTSA memorabilia from the Office of the President