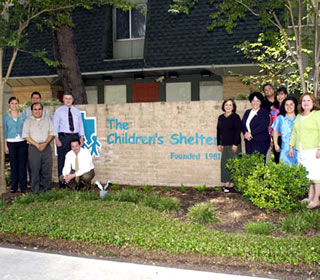 SECC Champions at San Antonio Children's Shelter
(Photos by Mark McClendon)
Employees can donate to Children's Shelter, tour SECC agencies
By Lesli Hicks
Special Projects Writer
(Sept. 8, 2005)--Laughter wafts from the playroom at the Children's Shelter, but it wasn't always that way for the 73 boys and girls who call this place home.
The abandoned, abused or neglected youngsters are literally survivors healing at the shelter, where they can remain until they are 12 years old.
---
Today's headlines
Article tools
---
"It takes time to recover from what some of them have experienced," said Ivan Rivera, Children's Shelter community relations coordinator. On Aug. 31, Rivera hosted 15 visiting UTSA employees -- the first university contingent participating in tours planned during the 2005 State Employee Charitable Campaign (SECC) through Sept. 23.
The Children's Shelter is a United Way agency, one of more than 100 other agencies under the United Way umbrella and eligible for UTSA employee contributions during the university's annual campaign.
"We had one boy who was so malnourished he looked like he was from a Third World country," Rivera said. "To see him today, you would never have imagined it."
Other children arrived burned, another sad and obvious scar from time spent in the hands of adults ill-prepared to be parents.
Founded in 1901, the facility on Cedar Street near downtown San Antonio, has sister operations, including foster care/adoption and a thrift store. Projects throughout the year include instruction for teachers and preschoolers on safety and parenting for pregnant teens.
"I encourage UTSA employees to open your Roadrunner hearts and return your SECC enrollment form to your department's SECC Champion -- or donate online," said Albert Carrisalez, UTSA chair of SECC 2005 and assistant to the president/director for external affairs.
UTSA employees who have benefited from an SECC-affiliated agency or charity are encouraged to share their family stories with the UTSA community. If you would like your story shared in UTSA Today, contact Albert Carrisalez at (210) 458-5138.
------------------------------
Would you like to tour an SECC-supported agency?
UHere's a way to see how your SECC contribution makes a difference in Bexar County... year-round and one person at a time. And it's free and fast.
UTSA employees can visit an agency they support or might want to support -- United Way has arranged three free tours of several local agencies and charities. The tours are on a first-come-first-served basis and are limited to 20 participants per tour. Transportation will be provided for large groups.
To participate in a tour, download the registration form (a Word document), complete it and e-mail or fax it according to instructions on the form.
For more information, contact Shirley Pipes at (210) 458-6220.
UTSA tours of SECC-supported agencies:
Tuesday, Sept. 13, 3 p.m.
Roy Maas' Youth Alternatives, 3101 West Ave.
Provides emergency shelter, long-term residential services and family counseling for youths in crisis.
Thursday, Sept. 15, 3 p.m.
Christian Senior Services, 4306 N.W. Interstate 410
Promotes the dignity, independence and self-worth of seniors through Meals on Wheels, companionship and Alzheimer's day care
Monday, Sept. 19, 3 p.m.
Respite Care for San Antonio Inc., 605 Belknap
Enhances stability and nurturing capabilities of families with children who have developmental disabilities and complex medical needs through community-based and emergency shelter services