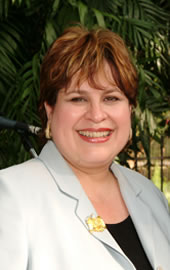 Sen. Letitia Van de Putte
Giving to SECC: As simple as giving up a few sodas
By Lesli Hicks
Special Projects Writer
(Sept. 19, 2005)--Giving up a soda or vending machine snack a few times each month is one way to think about supporting the 2005 State Employee Charitable Campaign (SECC), UTSA President Ricardo Romo told 120 UTSA college deans, department chairs and administrative leaders at a recent SECC leadership breakfast.
"You would be helping Goodwill, Boy Scouts of America and the Humane Society, among others," Romo said. "I have asked my entire office for 100-percent participation. It does not matter how much they give, but that they give something. I challenge you for 100-percent participation as well."
---
Today's headlines
Article tools
---
As the featured speaker at the breakfast, state Sen. Leticia Van de Putte, District 26, urged the audience to promote SECC's advantages to everyone across UTSA's three campuses.
"Unlike corporate America, institutions of higher learning typically are not viewed as big contributors," said Van de Putte. "Some people have gotten the idea that academicians and charitable giving are mutually exclusive, but you have the opportunity to change that image with the grace and generosity for which UTSA is known. Every dollar you put into SECC comes back 10-fold. Whatever your passion is, you can help."
Through payroll deduction, giving to SECC is a painless process. "A UTSA employee can give as little as $3 a month for one year -- that's $36," said Albert Carrisalez, UTSA 2005 SECC chairman. "That can provide two days of food and shelter for someone who is homeless."
The charitable campaign ends Sept. 23, but there is still time to fill out your donation form and return it to your Area Champion. You also can donate online to SECC through the UTSA Hurricane Relief Effort site.