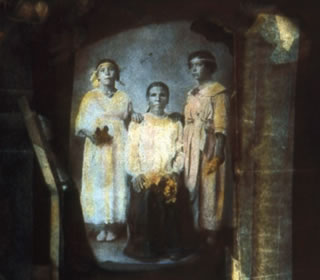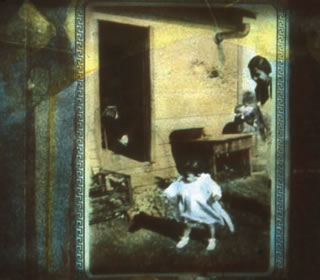 UTSA hosts exhibit by acclaimed San Antonio artist and photographer Kathy Vargas
By Tim Brownlee
Assistant Director of Public Affairs
(Sept. 7, 2005)--UTSA presents the photograph exhibit, "Este Recuerdo" (This Remembrance) by internationally acclaimed San Antonio artist Kathy Vargas through Sept. 30 at the UTSA Downtown Campus gallery, Durango Building Room 1.12A, as part of the international photography festival, Fotoseptiembre USA.
An opening reception hosted by President Ricardo Romo and Dr. Harriett Romo is 5:30-8:30 p.m., Friday, Sept. 9, featuring Jesse Zapata, UTSA Downtown Campus vice provost, as pianist. The reception is free and open to the public; free parking is available in the UTSA garage.
---
Today's headlines
Article tools
---
The exhibit includes selections from Vargas' "Este Recuerdo" and "Discontinuous" series. In the "Este Recuerdo" series, she uses old family photos to keep the stories alive of her ancestors. The images, created between 2001 and 2005, are hand-colored, selenium-toned, black-and-white, gelatin silver prints, including double exposures done in the camera.
Pictured at left are exhibit photographs (top) "My Great Grandmother Clara Botello Soriano with Her Daughters Dolores and Danfila," (middle) "Me and My Grandmother Marina Soriano" and (bottom) "My Father and Me."
"Except for me, the people in these photos are dead now, so I've placed them in the textures and shapes of tombs," said Vargas. "Except for my great, great grandfather, who lived to be one of the oldest survivors of the Battle of the Alamo, most of my family members, like most of our family members, will not be written down in history books. I wanted to create a memory of and for them, so that their names would not be forgotten, even if only for a little longer."
The images in the "Discontinuous" series come from the idea that humans begin as part of a greater, continuous life force or energy, become separate when born and join again only at death. "When I relate these photographs to those in the 'Recuerdo' series, I recall that I am the only 'discontinuous' element left [in my family]," Vargas said.
"Kathy Vargas is a magician who uses the simple forces of light, shadows and illusions to tell a compelling story," said UTSA President Ricardo Romo. "Her work makes us curious about life and its many mysteries. Her images give us an understanding of the persistence of culture in Mexican American communities."
"When viewing Kathy's images, what strikes one first is her extraordinary ability to create an almost surreal visual dissonance," said Arturo Almeida, exhibit curator and UTSA art specialist. "More than a collection of captured moments, this work reminds us that it is the people who filled those brief moments that make life worth remembering."
Vargas is a native San Antonian. Born in 1950, she lives and works in her childhood home. She began studying painting and later photography in the early '70s and earned bachelor of fine arts and master of fine arts degrees from UTSA in the '80s. Over three decades, she earned an international reputation as a compelling artist with a unique vision. Vargas is chair of the art and music department at University of the Incarnate Word in San Antonio.
For more information, contact Arturo Almeida at (210) 458-4983.