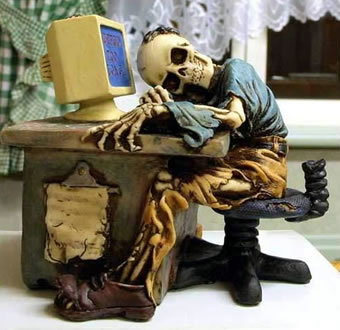 Computer death: Waiting to connect
Troubleshooting tips: Why can't I access the network or my e-mail?
By Alex Morones
Technical Writer and Editor, Office of Information Technology
(Oct. 4, 2005)--Recently the Office of Information Technology Help Desk has experienced an increase in the number of calls concerning network and e-mail access.
---
Today's headlines
Article tools
---
If you are having trouble accessing your e-mail account either on campus or remotely using UTSA Webmail, here are three troubleshooting tips.
Expired password: Passwords are set to expire every 90 days; notifications are e-mailed 14 days before expiration. If you do not change your password before it expires, you will not be permitted to log on to your UTSA account nor will you be permitted to access e-mail remotely using UTSA Webmail. If you are using a Macintosh PC, you may not receive the 14-day notification.
Multiple unsuccessful logon attempts: For security purposes, after five unsuccessful attempts your account will be locked. To resolve these issues you can visit the UTSA Account/Password Reset page to unlock your account and reset your password. If you have not visited this Web site before, or you are unable to unlock your account via this Web site, for assistance you must bring a photo ID to the Information Technology Help Desk in Science Building Room 1.01.10, 1604 Campus.
Expired account: If you are not a full-time, permanent employee, there is an expiration date on your account. If you receive a notice that your account has expired, please have your supervisor e-mail helpdesk@utsa.edu to request an extension on the account.
For more information, contact the Help Desk at (210) 458-5538.