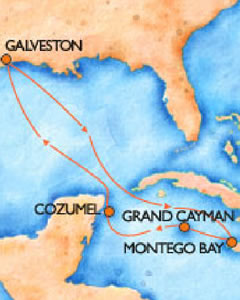 UTSA alumni May cruise changes departure location
By Marcia Mattingly
Alumni Programs Marketing Consultant, UTSA '77
(Oct. 31, 2005)--UTSA alumni and friends are headed back to the Caribbean for another entertaining and educational cruise and the UTSA community is invited to join in the fun.
The next interest meeting, free and open to all, is 6 p.m., Wednesday, Nov. 2 at 6 p.m. in John Peace Library Building Room 4.03.08, 1604 Campus. For planning purposes, please call (210) 458-4133 to reserve a seat for the meeting.
---
Today's headlines
Article tools
---
Additionally, because of Hurricane Katrina and the subsequent closure of the Port of New Orleans, the ship and departure location have changed from New Orleans to Galveston. The Carnival Cruise ship, the Elation, originally scheduled for the UTSA cruise, is moving home to Miami. The Conquest is moving to Galveston and will be the UTSA cruise ship.
"This means Texas gets a newer and bigger ship, as well as the option to book a balcony cabin without booking a suite, as on the Elation," said Jane Burton, UTSA director of alumni programs. "It also means there is a rate increase, as is always the on a newer ship, but the Conquest is worth it."
The revised cruise itinerary is:
Sunday, May 14 -- Depart Galveston
Monday, May 15 -- Day at Sea
Tuesday, May 16 -- Day at Sea
Wednesday, May 17 -- Arrive Montego Bay, Jamaica
Thursday, May 18 -- Arrive Grand Cayman, Cayman Islands
Friday, May 19 -- Cozumel, Mexico
Saturday, May 20 -- Day At Sea
Sunday, May 21 -- Arrive Galveston
The cruise is $741 per person for an inside cabin, $891 per person for an ocean view cabin and $1,041 per person for a cabin with private balcony. Third or fourth persons pay less, based on rates and availability at time of booking. Roundtrip airfare from various gateway cities is available. Because of the ship change, Carnival is offering $100 per cabin in onboard credit.
The prices are per person, based on double occupancy and include the cruise, the UTSA registration fee, and all taxes, port charges and fees. The cruise package includes all meals (except in the alternative restaurant, the Supper Club, and the specialty coffee bar), all onboard entertainment and activities, room service, use of the extensive fitness center and a host of other activities. The price does not include optional shore excursions, personal expenses, alcoholic beverages, casino games or gratuities.
CPE credit for accountants is offered on the cruise. For information on the additional cost and course details, call Elaine Sanders, chair of the UTSA Department of Accounting, at (210) 458-4320.
Carnival requires a deposit of $250 per person payable by Dec. 1, with final payment due Feb. 18. Cancellations prior to making final payment are fully refundable. Trip cancellation insurance is additional and optional, but highly recommended. To cover pre-existing conditions that may result in a cancellation, premiums should be paid at the time of deposit.
To reserve a cabin, mail the deposit to the UTSA Office of Alumni Programs. Checks should be made payable to "UTSA Alumni Programs."
For more information, contact Lynn or Ben Catalina, Cruises Inc., at 1-888-522-7447 or (210) 658-0019.