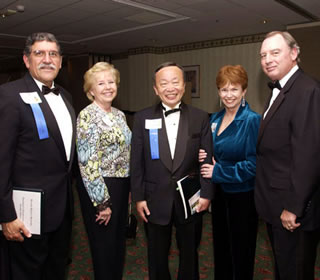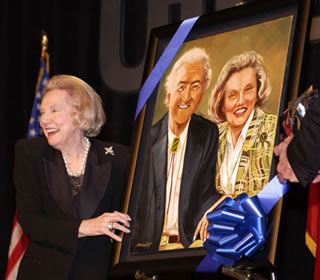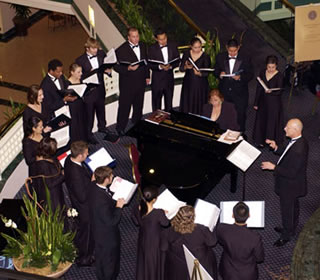 Top photo: UTSA President Ricardo Romo, UTSA supporter Nancy
Loeffler, honoree Richard Liu, Dr. Harriett Romo and UTSA
supporter Tom Loeffler. Center photo: Mrs. John B. Connally.
Lower photo: UTSA Madrigal Singers conducted by Associate
Professor Gary Mabry perform before the festivities.
(Photos by Mark McClendon)
UTSA scholarship and awards dinner raises $1.9 million
By Marianne McBride Lewis
Associate Director of Public Affairs
(Oct. 12, 2005)--The University of Texas at San Antonio's 2005 President's Scholarship and Awards Dinner was held last night, Oct. 11, at the Marriott Rivercenter Hotel, an event that celebrated two special friends of the university and raised a record $1.9 million for UTSA scholarships and other academic programs.
The dinner, attended by more than 900 guests, recognized Richard S. Liu, an international businessman well-known for his interest in building cultural bridges between the U.S. and China and for his leadership and commitment to UTSA, and Mrs. John B. Connally, the former first lady of Texas, for her extraordinary dedication to higher education and for partnerships with UTSA.
---
Today's headlines
Article tools
---
Liu received the 2005 Tom C. FrostAward, a recognition given annually by UTSA to an outstanding citizen who has provided exceptional leadership to important business and community endeavors. Previous award winners are former Texas Governor Dolph Briscoe and Ed Whitacre Jr., chairman of the board and chief executive officer of SBC Communications Inc.
"Tonight's dinner recognizes extraordinary leadership and commitment to expanding access to higher education," said UTSA President Ricardo Romo. "Richard Liu is an international leader in business who is responsible for creating some of the most productive and innovative educational partnerships between the U.S. and China, a global economic partner with our country."
The Liu's Family Foundation U.S.-China Business Education Initiative at UTSA is a program that has supported the exchange of more than 100 students and scholars with five partner universities in China.
During the recognition, Romo presented Liu with a crystal award shaped like a sail and a pair of Pere David deer, a species of deer that, like the giant panda, is a rare animal whose origins are in China. Liu is expected to raise the animals on his Texas ranch.
Liu surprised the university with a gift of $1 million which will fund an endowed chair in the College of Business.
The gift will complement the $3 million given previously by Liu to the university's College of Business international program. Even before this gift, Liu is the university's largest single donor.
Mrs. John B. Connally (Nellie) received the UTSA Gold Star Award, a recognition presented annually to an individual or organization that has forged extensive partnerships with the university and has supported UTSA's students and faculty in extraordinary ways. The only previous recipient of the Gold Star award is The USSA Foundation, a Charitable Trust.
U.S. Senator John Cornyn (R-Texas), former Texas attorney general, Supreme Court justice and Bexar County district judge, introduced Connally and recognized her achievements.
"Mrs. Connally is a very special woman, one whose tireless efforts to support our state's educational institutions are truly inspiring," said Cornyn. "She has served the people of Texas with purpose, grace and determination -- and Texans have been blessed by her efforts."
Romo presented Mrs. Connally with a framed portrait of her and the late governor painted from a photograph taken shortly before Governor Connally's death in 1993. Additionally, she received an eight-inch crystal star etched with the UTSA seal.
The fund-raising gala was hosted by UTSA President Ricardo Romo and Dr. Harriett Romo, and co-chaired by Kenny Wilson, president of Bank of America, and Jack Guenther, chairman of V.H. McNutt Memorial Foundation.
Also honored during the evening were the university's donor societies, the President's Associates, the Sombrilla Society and the Lone Star Society, as well as individual donors from last year.
In addition to the Liu gift, UTSA received support from individual donors, Bank of America and The Tobin Endowment.