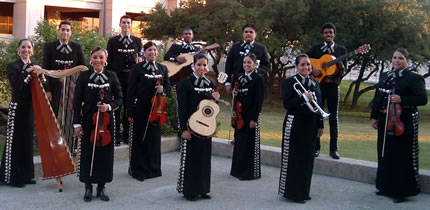 UTSA Mariachi Los Paisanos
UTSA Mariachi Los Paisanos Oct. 16 free performance at UTSA opens South Texas tour
By Kareem El Dahab
Student Writer, College of Liberal and Fine Arts
(Oct. 14, 2005)--The UTSA Department of Music's Mariachi Los Paisanos ensemble, conducted by Jose R. Torres, will kick off its fall 2005 recruiting tour with a free concert at 7:30 p.m., Sunday, Oct. 16 in the Arts Building Recital Hall, 1604 Campus.
The Oct. 17-18 tour will include concerts at 11 South Texas high schools with stops in Corpus Christi, Laredo, Zapata and Eagle Pass. The purpose of tour is to promote the UTSA mariachi program and the music department.
---
Today's headlines
Article tools
---
The 14-piece ensemble consists of six violins, three trumpets, harp, guitarron, vihuela and two guitars. The program will include music from the traditional mariachi repertoire, including compositions by Ruben Fuentes, Pepe Martinez, Jose Alfredo Jimenez and Silvestre Vargas.
For more information, contact Cindy Solis (mailto:cynthia.solis@utsa.edu) at (210) 458-5685.
------------------------------
Mariachi Los Paisanos Tour
Monday, Oct. 17
Moody High School, Corpus Christi
Ray High School, Corpus Christi
Miller High School, Corpus Christi
Zapata High School, Zapata
Tuesday, Oct. 18
Martin High School, Laredo
Alexander High School, Laredo
United High School, Laredo
Nixon High School, Laredo
Cigarroa High School, Laredo
Johnson High School, Laredo
C.C. Winn High School, Eagle Pass