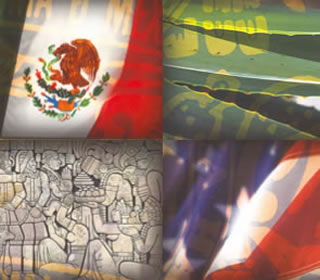 UTSA Mexico Center co-sponsors Oct. 28 panels on Mexican migration to United States
By Kareem El Dahab
Student Writer, College of Liberal and Fine Arts
(Oct. 11, 2005)--The UTSA Mexico Center, UNAM San Antonio (Universidad Nacional Autonoma de Mexico), CISAN (Centro de Investigaciones sobre America del Norte), CEPE (Centro de Ensenanza Para Extranjeros) and PUEG (Programa Universitario de Estudios de Genero) will host "Mexican Migration to the United States," a seminar with two panel discussions, accompanied by an art exhibit.
The daylong event, which begins at 9 a.m., Oct. 28 at UNAM San Antonio, 600 HemisFair Park, is free and open to the public. For planning purposes, please call (210) 222-8626 to reserve seats.
---
Today's headlines
Article tools
---
The morning panel will discuss gender, society and culture, and the afternoon panel will discuss the political economy and human rights. There will be opportunities for audience questions during each session.
Following the panel discussions from 5 to 6 p.m. is an exhibit on loan from Princeton University, "Miracles on the Border," a collection of ex-votos by Mexican migrants. Ex-votos (or retablos) are Mexican and Mexican American folk art paintings on copper or tin created by Mexican immigrants and their relatives. The paintings depict scenes of an event and represent a thank-you, miracle or supplication (prayer request) for a favor granted by a saint, the Virgen de Guadalupe, or El Sagrado Corazon (the Sacred Heart).
------------------------------
Panelists and moderators
Mario Melgar Adalid, UNAM San Antonio director will welcome participants and introduce the keynote speaker, Maria Jimenez, director of the Immigration Law Enforcement Monitoring Project.
The first panel, which is on gender, society and culture, will be moderated by Juan Ramon de la Fuente, UNAM president, with panelists Amalia Dolores Garcia Medina, governor of the State of Zacateca, Mexico; Harriett Romo, director of the UTSA Mexico Center and UTSA associate professor of sociology; Manuel Ruiz de Chavez, president of Fundacion Mexicana para la Salud; Maria Isabel Belausteguigoitia, director of PUEG; and Martha I. Lara, consul general of Mexico in San Antonio.
The second session on political economy and human rights will be moderated by Jose Luis Valdes, director of CISAN, with panelists Claire Joysmith, CISAN; Amy Casso and Petra Mata, Fuerza Unida; Francisco Arguelles, Houston, Texas, activist; and Jaime Carrera, Secretaria de Hacienda y Credito Publico.