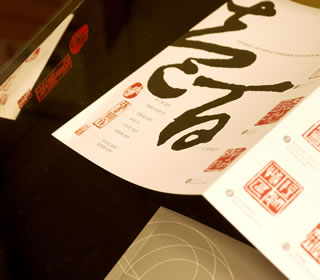 Book collection donated to UTSA by
Congressman Charlie Gonzalez
(Photos by Mark McClendon)
Congressman Charlie Gonzalez donates Chinese book collection to UTSA archives
By Kareem El Dahab
Student Writer, College of Liberal and Fine Arts
(Oct. 17, 2005)--Congressman Charlie Gonzalez, D-Texas, recently donated a book about Chinese history to the UTSA Library.
The book, "Zhongguo Gaige Kai Fang De Gu Shi" (Stories of China's Reform and Opening Up), consists of 100 folded sheets that describe China's recent history. The congressman's gift is on display through October in the UTSA Library foyer on the second floor of John Peace Library Building, 1604 Campus.
---
Today's headlines
Article tools
---
After this month, UTSA students can view the documents for research in the library's special collections.
"The display highlights some of the new and unique items that come into the archives and special collections department of the library," said Gerrianne Schaad, head of archives and special collections. "The library is an integral part of the university. The donation is an example of how the library receives material and makes it available to the students."
Along with the book, there is a letter on display from Gonzalez in which he writes, "These publications should provide a reference to China and its people from a particular point of view. As in all debates and discussions, the educative process includes consideration of competing views and beliefs."
The new collection came to the library after Gonzalez told UTSA President Ricardo Romo of his desire to make the documents a resource for students. Arrangements then were made to bring the collection to UTSA.
Also on display in the library foyer is a collection of papers donated by the Gresham family of San Antonio, who wanted to share with UTSA a part of their family's history.
The display includes pictures from the San Antonio Express-News of Susan Gresham, crowned Fiesta Queen of the Court of Holidays in 1947. She is pictured in an ornate Fiesta gown with a long train trailing behind -- something that is familiar to many San Antonians who celebrate Fiesta. When removed from display and archived, the gift from the Gresham family also will be available as a student research resource.
Rare books highlighting ranch life in Texas also are exhibited this month in the library foyer.
For more information about the recent donations or the library archives, contact Gerrianne Schaad at (210) 458-2318.
For general information about the UTSA Library, contact the reference desk at (210) 458-4573.