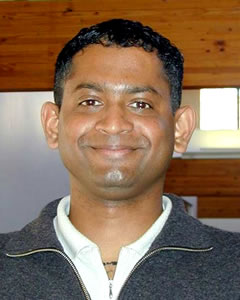 Radha Poovendran
CIAS hosts Oct. 18 lecture on wireless sensors
By Kareem El Dahab
Student Writer, College of Liberal and Fine Arts
(Oct. 17, 2005)--The UTSA Center for Infrastructure Assurance and Security (CIAS) and the Department of Computer Science will present a lecture by Radha Poovendran, assistant professor of electrical engineering at the University of Washington, on "Secure Range-Independent Localization for Wireless Sensor," as a part of the CIAS guest lecture series.
---
Today's headlines
Article tools
---
The talk, free and open to the public, is 2-3:30 p.m., Tuesday, Oct. 18, in the Biosciences Building Loeffler Room (3.03.02) at the 1604 Campus.
Poovendran's research centers on applied cryptography for multi-user environments, networking and information theory. He has received many awards for his research and teaching in wired and wireless security. He earned a Ph.D. degree in electrical engineering from the University of Maryland, College Park in 1999.
Poovendran will address the problem of enabling sensors of wireless sensor networks (WSN) to find their location in an unsafe environment. A range-independent localization algorithm called SeRLoc is proposed.
SeRLoc stands against dangerous WSN attacks, such as the wormhole attack, the Sybil attack and compromised sensors. Poovendran will compare SeRLoc with other advanced schemes.
For more information, visit to the CIAS Web site or contact Phuong Tran at (210) 458-6397.