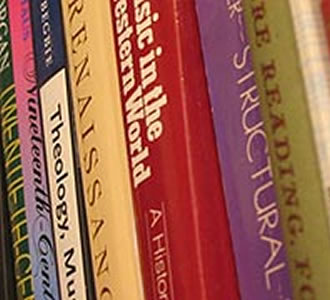 President's committee begins provost search
By Tim Brownlee
Assistant Director of Public Affairs
(Oct. 10, 2005)--The appointment of the Provost and Vice President for Academic Affairs Search Committee at The University of Texas at San Antonio was announced today by President Ricardo Romo.
The committee will make recommendations to Romo regarding possible successors to Guy Bailey, who in July was named chancellor of the University of Missouri - Kansas City. Bailey will leave UTSA on Dec. 31.
---
Today's headlines
Article tools
---
The search committee, headed by James McDonald, professor and chair of the Department of Anthropology, is charged to present the names of three unranked finalists for the position to Romo, who will make the final decision. The 19-member committee is composed of UTSA faculty, administrators, staff and students, and a community representative.
The first meeting of the committee is Friday, Oct. 21, and the committee will choose finalists by the end of March 2006. The start date for the new provost is June 1, 2006.
"I am pleased that this distinguished group of advisers has agreed to assist in finding the best successor to continue the extraordinary accomplishments of Guy Bailey," said Romo. "Their participation and input are vital as we look forward to a rewarding process in the coming months."
The UTSA provost and vice president for academic affairs, who reports to the president, is responsible for academic leadership in ensuring curricula, teaching and research of superior quality; working with Faculty Senate on matters of general welfare for the university; building and overseeing the university budget; advising the president on plans, policies and operations; and representing the university in the president's absence at state and regional organizations.
Additionally, the provost oversees all aspects of the professional and academic accreditation of academic programs, academic space, faculty development and academic personnel, including coordination within the University of Texas System and with the Texas Higher Education Coordinating Board.
The provost must have strong academic credentials in teaching, scholarship and service, a track record of fostering collaborative relationships, and a commitment to diversity, and must provide leadership toward the institutional goal of becoming a major research university.
The University of Texas at San Antonio is the premier institution of higher education in South Texas and one of the fastest growing universities in the state. One of nine academic universities and six health institutions that comprise the UT System, UTSA is the second largest institution in the system. Celebrating its 36th anniversary, UTSA serves more than 27,000 students enrolled in 58 bachelor's, 42 master's and 15 doctoral degree programs.
Programs are offered through the colleges of Architecture, Business, Education and Human Development, Engineering, Honors, Liberal and Fine Arts, Public Policy, and Sciences, and the Graduate School. A university of access and excellence, UTSA is committed to research and discovery, teaching and learning, and public service and community outreach.
------------------------------
Provost and Vice President for Academic Affairs Search Committee
Committee Chair
James McDonald, Professor and Chair, Anthropology
Community Representative
Dan Bates, President, Southwest Research Institute
Faculty and Staff Representatives
Brenda Claiborne, Professor, Biology
Richard Diem, Vice Provost and Dean, Honors College
Mansour El-Kikhia; Associate Professor and Chair, Political Science and Geography; Chair, Faculty Senate
Marcheta Evans, Associate Professor and Chair, Counseling, Educational Psychology, Adult and Higher Education
Julius Gribou, Dean, College of Architecture
Grace Hernandez, Director, Institutional Diversity
Daniel Hollas, Professor and Associate Dean, College of Business
Amir Karimi, Professor and Associate Dean, College of Engineering
Kerry Kennedy, Vice President, Business Affairs
Ruben Martinez, Professor and Interim Chair, Criminal Justice
Sonia Martinez, Vice President, University Advancement
Yolanda Miller, Director, Materials Management
Ysabel Trinidad, Associate Vice President, Student Affairs, Administration and Planning
Terry Wilson, Assistant Provost, Academic Budgets, Planning and Compliance

Student Representatives
Christine LeBlanc, Senior, College of Sciences
Angela White, Junior, College of Liberal and Fine Arts