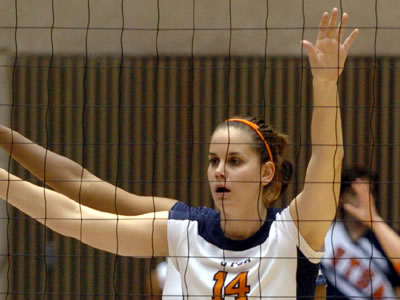 UTSA volleyball player Connie Picard
Athletics 'Ticket Tour' to hit UTSA Tuesday
By Richard Nixon
Assistant Athletic Director for Media Relations
(Oct. 17, 2005)--Representatives of the UTSA Athletic Department will sell tickets for the 2005-2006 UTSA basketball season and the 2005 NCAA Division I Volleyball Championships at various locations on the 1604 Campus over the next three weeks.
Athletic Department representatives will begin the ticket tour Tuesday, Oct. 18, when they will have a table set up in the first floor lobby of the University Center from 10 a.m. to noon, and on the first floor of the John Peace Library Building from 10 a.m. to noon, Thursday, Oct. 20.
---
Today's headlines
Article tools
---
UTSA faculty and staff members receive a discount on basketball season tickets with three season-ticket packages available. There is a combined season ticket with both men's and women's games for $110, a men's games-only package for $85 and a women's games-only package for $65.
UTSA will host the NCAA Volleyball Championships at the Alamodome Dec. 15 and 17. A two-day tournament pass is $46 and gets you into the two semifinal matches on Saturday and the championship match on Monday.
For more information, call the UTSA ticket office at (210) 458-8872 or Rick Nixon at (210) 458-4551.
------------------------------
UTSA Ticket Tour Dates and Locations
Tuesday, Oct. 18 -- 10 a.m.-noon, University Center
Thursday, Oct. 20 -- 10 a.m.-noon, John Peace Library Building
Wednesday, Oct. 26 -- 10 a.m.-noon, Main Building
Friday, Oct. 28 -- 10 a.m.-noon, Business Building
Tuesday, Nov. 1 -- 10 a.m.-noon, University Center