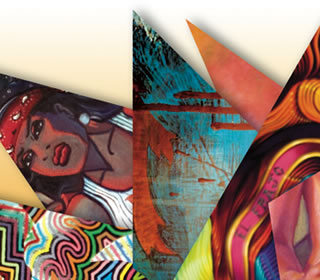 UTSA, Wells Fargo, Institute of Mexico, Blue Star celebrate Hispanic Heritage Month
(Oct. 7, 2005)--The University of Texas at San Antonio, Wells Fargo, the Institute of Mexico and Blue Star Contemporary Art Center have joined forces to celebrate Hispanic Heritage Month through a special art show.
Wells Fargo will feature 30 Hispanic artists and their artwork at the company's Northstar, Blanco and Castroville locations through Oct. 31. The art displays are open to the public from 9 a.m. to 4 p.m., Monday through Friday.
"Supporting arts and culture for the communities in which we live and serve are priorities for Wells Fargo," said Don Kendrick, Wells Fargo Community Banking regional president for Central Texas. "We are honored to work with UTSA, Institute of Mexico and Blue Star Contemporary Art Center. They have given us an amazing opportunity to celebrate Hispanic Heritage Month through artwork and to expose people to Hispanic arts and culture."
---
Today's headlines
Article tools
---
"The art of South Texas and Mexico is as much a part of our university as the buildings that house it," said UTSA President Ricardo Romo. "We represent San Antonio and all of South Texas, and the work of Hispanic artists represents our heritage -- our culture. We are honored to be part of this exhibit."
Comprised of both gifts and acquisitions of fine art, the UTSA art collection contains paintings, sculptures, works on paper and mixed media by many talented South Texas artists, some of whom are graduates of UTSA.
UTSA Curator Arturo Almeida reviews potential gifts and makes recommendations based on their artistic merit and appropriateness for the university collection. Pieces in the collection are located in interior and exterior sites throughout the university's three campuses and are maintained by the UTSA curator. The university hopes to enhance the educational environment for thousands of students, faculty and staff, while making UTSA aesthetically pleasant for visitors.
The Institute of Mexico is the culmination of arduous work by the government of Mexico, through the Ministry of Foreign Affairs, to establish a permanent cultural representation in the United States. The institute's purpose is to promote the country's cultural heritage and assist in strengthening alliances and collaborations between both countries.
Blue Star Contemporary Art Center is a nonprofit, non-collecting contemporary art center in San Antonio that advances the growth and understanding of contemporary art, artists and the curatorial process. Through exhibitions and a variety of programs, Blue Star is an active participant in the development of regional, national and international contemporary art and provides a lively forum for the visual arts dialogue.
Wells Fargo has 11,500-plus team members and more than 620 locations throughout Texas. Wells Fargo & Company is a diversified financial services company with $435 billion in assets, providing banking, insurance, investments, mortgage and consumer finance to more than 23 million customers from more than 6,000 stores and the Internet (wellsfargo.com) across North America and internationally.
Wells Fargo's relationship with the Latino community dates back to when the company was first founded more than 153 years ago. The company published a series of Spanish-language advertisements and began employing bilingual agents to serve the growing Spanish-speaking population in California. In the mid-1800s, Wells Fargo expanded its express mail and courier services into Mexico and became the only U.S. company to offer direct service to that country. By the 1940s, Wells Fargo had quickly established a network of services throughout Mexico, Panama, El Salvador and Cuba.
Latino businesses have also played an important role in Wells Fargo's history, and in 1997, the company became the first major financial institution to establish a public lending goal of $1 billion over six years to Latino small business owners, which has since been expanded to $3 billion over ten years.
Today, Wells Fargo is the fifth largest financial services company in the U.S. and serves more than 23 million customers. The company's commitment and service to the Latino community is still very strong today and will continue to grow every year.
------------------------------
Artists and locations
Wells Fargo, Northstar
The Institute of Mexico -- Isabel Rico, curator
Beatriz Fedele
Reyna Castano
Luly Sosa
Cecilia Zepeda-Schwartzott
Rocio Saenz
Leonor Loelia
Sara Laguera
Dolores Martina
Barbara Cruz
Carmen Oliver
Wells Fargo - Las Palmas/Castroville Road
The University of Texas at San Antonio -- Arturo Almeida, curator
Ricky Armendariz
Andy Benavides
David Anthony Garcia
Daniel Guerrero
Cesar Martinez
Richard Martinez
Cruz Ortiz
Juan Miguel Ramos
Anita Valencia
Kathy Vargas
Wells Fargo - Blanco/1604
Blue Star Contemporary Art Center -- Bill Fitzgibbons, curator
Xavier Garza
Jose Esquivel
Luis Guerrero
Adan Hernandez
Luis Lopez
Joe Lopez
Eduardo Rodriguez
Armando Sanchez
Luis Valderas
Deborah Vasquez