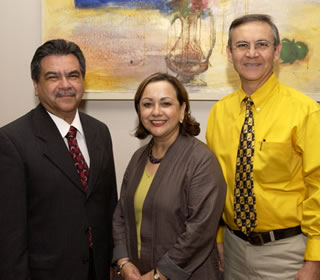 From left to right, reception guests Jesse Zapata, vice provost for
the UTSA Downtown Campus; Grace Hernandez, director of the UTSA
Office of Institutional Diversity; and writer Eddie Howell
Diversity Month: UTSA hosts reception for Texas writer
By Tim Brownlee
Assistant Director of Public Affairs
(Nov. 17, 2005)--UTSA President Ricardo Romo, Dr. Harriett Romo and the UTSA Office of Institutional Diversity hosted a showing of the new film, "Harvest of Redemption," Nov. 10 in the Buena Vista Theatre (1.326) at the UTSA Downtown Campus. The film showing was part of the first annual UTSA Diversity Month.
---
Today's headlines
Article tools
---
A reception before the film showing was attended by members of the UTSA community and the film's writer, Mercedes, Texas, native Eddie Howell.
The film is based on the nonfiction book by Mercedes, Texas, native Eddie Howell. Set in the Rio Grande Valley in the 1920s, it is a coming-of-age story about a young man struggling to face the challenges of manhood and confront the haunting demons of his past.
In "Harvest," we watch Oscar as he grows up and attempts to overcome the resentment he feels after witnessing the brutal murder of his father. His journey is threaded by the vivid colors of life including love, hate, faith, hope and revenge.
Visit the "Harvest of Redemption" Web site.
For more information, contact the Office of Institutional Diversity at (210) 458-4120.