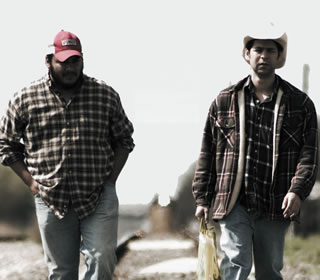 Scene from "La Tragedia de Macario"
Diversity Month: Film by UTSA student Pablo Veliz
By Tim Brownlee
Assistant Director of Public Affairs
(Nov. 28, 2005)--As part of UTSA Diversity Month, the Department of Communication will sponsor two film screenings this week, both free and open to the public.
The Jamaican cult classic, "The Harder They Come," is directed by Jamaican director Perry Henzell and stars reggae musician Jimmy Cliff. The film will be screened from 7 to 9 p.m., Monday, Nov. 28 in Main Building Room 0.106 at the 1604 Campus. Carol Adams-Means of the Department of Communication will facilitate a discussion after the film.
---
Today's headlines
Article tools
---
"La Tragedia de Macario," directed by UTSA student Pablo Veliz, recently was accepted into January's Sundance Film Festival. The film won the Best Feature Film award at the 2005 Houston Pan-American Film Festival. The film will be shown from 7 to 9 p.m., Wednesday, Nov. 30 in Main Building 0.106, 1604 Campus. A discussion will be facilitated by Adams-Mean and Veliz.
"The Harder They Come, according to Roger Steffens, co-author of "One Love: My Life with Bob Marley and the Wailers," is critically regarded as the most important film to emerge from the Caribbean. Shot in the stark reality of the underside of Kingston, Jamaica, the film depicts the gritty, darker side the of the 1970s reggae music scene controlled by local media bosses.
According to UTSA communication instructor Carol Adams-Means, the film is "not just entertainment -- it is a cultural infusion -- which students of culture and anthropology should find of special interest."
Since its release in April 2, 2005, "La Tragedia de Macario" was selected for the 2005 Guadalupe Film Festival, World Fest Houston (2005) and featured on KLRN TV during Hispanic Heritage Month.
Adams-Means said the film addresses the contemporary social strife of Mexican nationals who leave their towns and villages to seek financial opportunity in America.
"Pablo Veliz, a UTSA communication major, produced the full-length film with minimal cinematic training, and this is where his genius lies," said Adams-Means. "I taught television production for many years and produced numerous students who are practitioners today, but Pablo has a natural ability that transcends the classroom. It is an excellent film."
Veliz is currently directing a new film, "Los Luchadores: The Struggle."
For more information, contact Carol Adams-Means at (210) 458-7730.