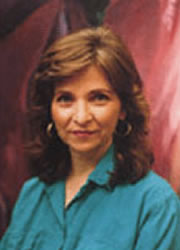 Carmen Tafolla
Diversity Month: Carmen Tafolla speaks Nov. 15
By Kareem El Dahab
Student Writer, College of Liberal and Fine Arts
(Nov. 14, 2005)--As a part of UTSA Diversity Month, the Division of Bicultural-Bilingual Studies presents internationally acclaimed poet and author Carmen Tafolla speaking on "My Heart Speaks a Different Language" at 3:30 p.m., Tuesday, Nov. 15 in the Buena Vista Theater (1.326) at the UTSA Downtown Campus.
A frequent lecturer on multicultural issues, Tafolla has published five books of poetry, seven television screenplays and one nonfiction volume on Chicana women. She also has published numerous short stories, articles and children's works.
---
Today's headlines
Article tools
---
Her award winning collection of poetry, "Sonnets to Human Beings," was published in Germany in a dual-language edition and in several editions in the United States. Her latest children's book, "Baby Coyote and the Old Woman," was nominated for a Bluebonnet Award. She has just completed a movie script co-authored with filmmaker Sylvia Morales for a feature-length comedy film, "Real Men... and Other Miracles."
A native of San Antonio's West Side, Tafolla earned a master of arts degree in 1973 and a Ph.D. in 1982 from the University of Texas at Austin. In 1973, she became director of the Mexican-American Studies Center at Texas Lutheran College where she initiated, among other projects, the El Premio Salinas Award to recognize students who have worked to promote understanding and cultural harmony.
Tafolla has served in numerous faculty and administrative positions at universities throughout the Southwest, including assistant professor of women's studies at California State University, Fresno, and special assistant to the president for cultural diversity programming at Northern Arizona University. She left higher education in 1990 to pursue a full-time writing career.
Tafolla has received many honors including listings in Outstanding Young Women of America, Foremost Women of the Twentieth Century and the Dictionary of International Biography.In 1999, the President's Peace Commission of St. Mary's University selected her for its Art of Peace Award for writing that promotes peace, justice and human understanding.
For more information, contact Josephine Mendez-Negrete at (210) 458-2637.