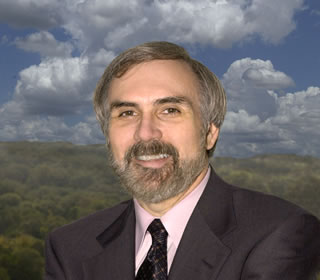 Guy Bailey
UTSA hosts farewell reception Dec. 9 for Guy Bailey
By Tim Brownlee
Assistant Director of Public Affairs
(Dec. 6, 2005)--Guy Bailey, UTSA provost and executive vice president, in July was named chancellor of the University of Missouri - Kansas City (UMKC). A professor of English, classics and philosophy, he has served as provost at UTSA since 1998. Bailey's last day at UTSA is Dec. 31.
The UTSA community is invited to a reception for Bailey from 3:30 to 5 p.m., Friday, Dec. 9 in the Main Building Regents' Room (3.106) on the 1604 Campus. The reception is an opportunity to bid a fond farewell and congratulations.
"Guy Bailey is an outstanding scholar, teacher and administrator," said UTSA President Ricardo Romo. "As provost, he helped shape UTSA as one of the next premier research universities serving Texas. He understands the complex role of a university in the community as a center of excellence in education, research and community service."
---
Today's headlines
Article tools
---
During his tenure at UTSA, more than 10 doctoral programs have been created, external funding for research has more than doubled and total enrollment has increased from 18,000 students to more than 26,000 students. Graduate enrollment has risen nearly 50 percent, and he has led efforts to recruit 200 faculty members during the last five years.
"It is a privilege to have served with my colleagues at UTSA during this period of rapid growth in both enrollment and academic programs," Bailey said. "I look forward to assuming the chancellorship at UMKC, and working with the team there to take the institution to the next level and strengthen its role as a metropolitan university." His appointment is effective Jan. 1, 2006.
"I have no doubt Guy Bailey will be a great chancellor for UMKC," said Romo. "He has been an integral part of our academic community and is respected by his peers. Missouri's gain is UTSA's loss. I have enjoyed working with Guy the last few years to lift UTSA to the ranks of premier universities, and will miss him greatly."
In collaboration with his wife, Jan Tillery, an associate professor of Engish, classics and philosophy, Bailey conducts research on language variation and change with special emphasis on the English of Texas and the American South. Since 1984, their research has earned more than $1 million in external funding and has been featured in numerous journals, The New York Times, PBS and other national media outlets. He was named the Peter T. Flawn Professor of English Language and Linguistics in 2004.
Bailey is the author of more than 90 books and articles, and has written 120 conference papers. His has earned international and national recognition and is frequently cited in dialectology and sociolinguistics literature.
Before joining UTSA in 1997 as associate vice president for research, Bailey was dean of liberal arts at the University of Nevada, Las Vegas. He earned his Ph.D. in English linguistics at the University of Tennessee, and both his bachelor's and master's degrees in English at the University of Alabama.
Since 1999, under Romo's leadership, four senior administrators have become university presidents. In addition to Bailey, Jim Gaertner, former dean of the College of Business, is president of Sam Houston State University and Blandina Cardenas, former dean of the College of Education and Human Development, is president of UT Pan American. Zorica Pantic-Tanner, former dean of the College of Engineering, recently assumed the presidency of Wentworth Institute of Technology in Boston.
Serving more than 26,000 students, UTSA is the premier institution of higher education in South Texas and one the fastest growing universities in the state. An institution of access and excellence, UTSA's academic programs include 58 bachelor's, 42 master's and 13 doctoral degree programs.
One of four University of Missouri campuses, UMKC is a public university serving more than 14,000 undergraduate, graduate and professional students. UMKC serves the Kansas City region with a three-part mission: visual and performing arts, health sciences and urban affairs.