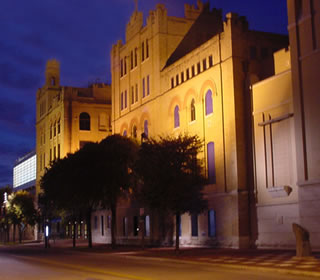 UTSACard = free admission to San Antonio Museum of Art
By Tim Brownlee
Assistant Director of Public Affairs
(Dec. 2, 2005)--UTSA students, faculty and staff receive free admission to the San Antonio Museum of Art (SAMA) simply by presenting their UTSACards. The special benefit is a result of the university's corporate benefactor membership to SAMA.
Since opening in 1981, the San Antonio Museum of Art has become home to the region's finest display of Greek and Roman antiquities, Asian art, Latin American and folk art, and American paintings -- a world of art that spans 5,000 years of human inspiration and creativity.
---
Today's headlines
Article tools
---
Housed in the historic Lone Star Brewery, built in 1884, the 104,000-square-foot facility is San Antonio's finest museum exhibition space. The blend of glass elevators, skylights and skywalk in the castle-like building is a sight no one should miss. The museum, located at 200 West Jones Avenue, is listed in the National Register of Historic Places.
The largest collection of Asian art in the southwestern United States is on view in SAMA's new Lenora and Walter F. Brown Asian Art Wing. SAMA's Asian art collections include more than 1,400 objects from China, India, Japan, Korea, Nepal, Pakistan, Southeast Asia, Sri Lanka and Tibet, spanning nearly 6,000 years of history. The two-story, 15,000 square-foot addition to the facility features 12 galleries and a changing exhibition space, offering visitors new insights into the arts of East and South Asian cultures.
Through March 19, view the SAMA Golden Gallery portraiture exhibition, "Unexpected Portraits: Satirical Woodcut Prints" by Jose Guadalupe Posada, Mexico's great graphic artist. Posada (1852-1913) is best known for his broadsides (sizable sheets of paper often sold on the streets) featuring skeletal images dancing through scenes of Mexican daily life or pamphlets and magazines punctuated by bold and biting sociopolitical satire. "Unexpected Portraits" features approximately 40 examples of Posada's lesser-known art of portraiture and caricature
Through Jan. 8, SAMA visitors can enjoy "La Linea Encantada: 20th Century Latin American Graphic Art from the SAMA Collection" in the Cowden Gallery. The exhibit is comprised mainly of Latin American graphics produced between 1927 and 1993, containing 80 works of art featuring lithographs, hand-colored prints and etchings from seven important portfolios.
Additionally, the Nelson A. Rockefeller Center for Latin American Art, a 30,000-square-foot wing dedicated to the study and appreciation of Latin American art, opened its doors in 1998. The collection features pre-Columbian, folk, Spanish Colonial/Republican, and modern and contemporary art.
SAMA offers one-of-a-kind exhibits, poetry readings, concerts, storytelling, dance performances, lectures, family days and art workshops.
For more information, contact the San Antonio Museum of Art at (210) 978-8100.