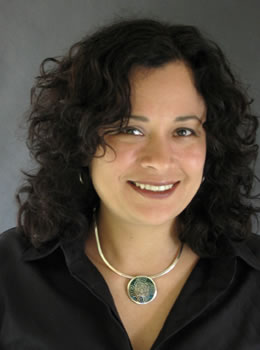 Patricia Quijada
Womens' Studies Institute associate director named
By Pamela Williams
Graduate Research Assistant, Women's Studies Institute
(Jan. 30, 2006)--Patricia Quijada, UTSA assistant professor of counseling and educational psychology, has been named associate director of UTSA's Women's Studies Institute (WSI).
"As the associate director for the Women's Studies Institute I seek to collaborate with the executive director, Sonia Saldívar-Hull, in carving out a research trajectory that seeks to produce new, creative and critically informed scholarship that deals directly with issues related toward the empowerment of women," said Quijada. "In so doing, we intend to further expand upon the collegial relationships here at UTSA and in the local San Antonio community by building alliances with faculty across disciplines and with the community."
---
Today's headlines
Article tools
---
Quijada joined UTSA in 2004 with a Ph.D. in educational psychology with an emphasis in human development from the University of Wisconsin - Madison. Additionally, she earned two master's of education degrees in counseling and human development from Harvard University, a multiple-subject teaching credential from the University of San Diego, a bachelor of science degree in sociology and a bachelor of arts degree in political science from the University of California at Riverside.
Quijada's research interests include examining identity formations among female youth in home, community and school contexts; mother-child relationships among indigenous communities; and academic achievement among students of color.
In the summer of 2005 with the support of WSI, Quijada collaborated with a community-based non-profit youth organization to launch the first annual JUNTAS: Cultivando a Stronger Futuro conference which focused on encouraging first-generation, 9-to-12-year-old, college-bound Chicanas/Latinas to pursue a post-secondary education.
The conference was the beginning of a longitudinal project Quijada will pursue advocating for Latinas to have opportunities to attend post-secondary institutions. With this in mind, Quijada plans for the JUNTAS conference to serve as a pilot project for a longitudinal, community-action-based research study to center on promoting the educational success of Chicanas/Latinas in the San Antonio community.
Quijada was appointed to serve a three-year term on the Scholars Advocating for Gender Equity (SAGE) committee and will co-chair Division K (Teaching and Teacher Education) Section 7 and the Adolescence Special Interest Group for the American Educational Research Association.
She has presented her research at numerous national and international conferences and most recently published "Semillas educacionales fortalecen nuestro futuro (Educational Seeds to Strengthen Our Future): K-8 Latina(o) Schooling Experiences."
Quijada will be the keynote speaker for the 2006 Young Women and Young Men's Conference sponsored by the San Antonio College Women's Center.