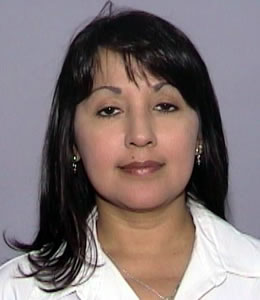 Naomi Fuentes
UTSA student Naomi Fuentes reported missing
By Marianne McBride Lewis
Associate Director of Public Affairs
(Feb. 22, 2006)--The University of Texas at San Antonio Police Department is seeking assistance from individuals who may have seen a UTSA student who was reported missing Sunday, Feb. 19.
---
Today's headlines
Article tools
---
The student, Naomi Fuentes, age 40, is an Hispanic female, 5 feet 1 inch tall, 115 pounds, with brown hair and brown eyes.
Police were told by a family member that Fuentes failed to return home on Sunday night after studying at the UTSA Downtown Campus.
To assist in their investigation, police released Fuentes' photograph and descriptive information. Anyone with information about her should contact UTSA police at (210) 458-4242.
"All of us here at UTSA are saddened by this incident, and our thoughts and prayers are with her family," said UTSA President Ricardo Romo. "The UTSA Police Department is focused on this investigation and I want to assure all of our students, faculty, staff and visitors that their personal safety and security is of utmost importance."
As a reminder to the UTSA community, campus police are available to escort individuals at the UTSA campuses. Contact the UTSA Police Department at (210) 458-4242.