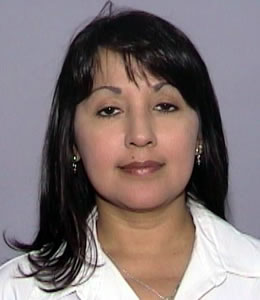 Naomi Fuentes
UTSA continues missing-student investigation
By David Gabler
Assistant Vice President for Communications
(Feb. 27, 2006)--The UTSA Police Department continues to investigate the disappearance of UTSA student Naomi Fuentes, last seen at the UTSA Downtown Campus on Sunday, Feb. 19. Fuentes, age 40, is an Hispanic female, 5 feet 1 inch tall, 115 pounds, with brown hair and brown eyes.
If anyone has information that could help with this investigation, call the UTSA Police Department at (210) 458-4242.
---
Today's headlines
Article tools
---
Since the disappearance of Fuentes eight days ago, the issue of personal safety has become a concern to some members of the UTSA community. To address these concerns, UTSA asks students, faculty and staff with safety concerns to pass them on to UTSA officials at news@utsa.edu.
Each semester, the UTSA Police Department Crime Prevention Unit offers UTSA students, faculty and staff a series of free safety classes. Crime prevention classes are presented on the 1604 Campus at the University Oaks Apartments clubhouse, 6685 UTSA Blvd.
These classes are open for registration:
Personal Safety for Women, 7-8 p.m.,Thursday, March 30
Women's Only Self-Defense, 7-8 p.m., Thursday, April 6
Personal Safety for Men, 7-8 p.m., Thursday, April 20
Register for a class at the UTSA Police Department Web site.