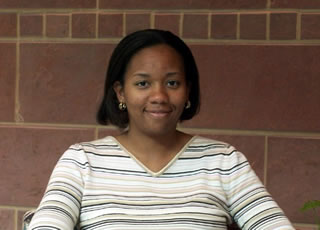 UTSA student receives conference fellowship
By Alison Beshur
Public Affairs Specialist
(Feb. 24, 2006)--Andrea Palmer hoped to define her career path before the start of the spring semester.
"I am very goal-oriented," Palmer said recently. "Trying to decide where you should go stresses you out."
But Palmer, a 24-year-old business management graduate student at UTSA and natural-born leader, said training she recently received has shown her other important leadership characteristics - knowing when to self-reflect and share responsibilities.
---
Today's headlines
Article tools
---
Earlier this month, Palmer received a Stardust Fellowship, an award only given to 25 American Humanics students from across the country, to attend two extra days of workshops tied to the American Humanics Management Institute, an annual conference for students interested in nonprofit management.
Because Palmer earned her bachelor's degree from UTSA in May '05 and continues to balance work, classes at UTSA and rearing her five-year-old daughter as a single mother, she hopes to in some way inspire other young mothers to pursue higher education, but hasn't mapped out the course of action.
"Now, I think I'll learn more and I won't restrict myself," Palmer said after attending the conference. "Sometimes, I just need to step back, and then I can step out there on a limb."
Sandie Palomo-Gonzalez, senior program coordinator at UTSA's Center for Policy Studies and executive director for the American Humanics program at UTSA, said approximately a dozen other students attended the four-day conference in San Diego.
"UTSA is one of three universities in Texas offering the American Humanics program at the undergraduate level and the only Texas institution to offer the program at the graduate level," Palomo-Gonzalez said.
Like Palmer, other UTSA Humanics students or nonprofit program participants have been recognized recently for leadership in community involvement.
In December, one former Nonprofit Certification Program participant, one current Nonprofit Certification Program participant and a UTSA undergraduate student pursuing a minor in nonprofit management and American Humanics certification were recognized as "40 Under 40 Rising Star" by the San Antonio Business Journal.
July Moreno de Lopez, vice president of development and community relations at American Sunrise, a nonprofit community effort for affordable housing and educational opportunities for West Side residents, recently completed the Nonprofit Certification Program.
Bonnie Lundy, executive director of Transplants for Children, currently is participating in the year-long certification program.
Renée Joy McGhee, MIS-communications director for Mission City Management Inc., a local business holding company, is pursuing a minor in nonprofit management and last month attended the national American Humanics conference in San Diego.
According to Palomo-Gonzalez, it is no coincidence that students who go through the nonprofit management or certification programs later surface as local nonprofit and community leaders.
"Participants learn to see solutions and gain an understanding of the issues unique to the nonprofit sector that help them succeed in the field," she added.