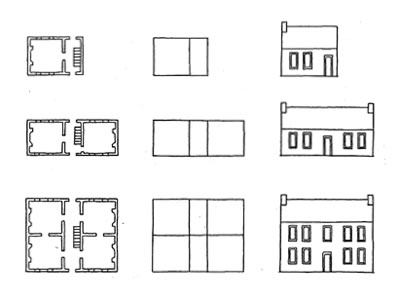 New architecture lecture series leads with folklorist
By Alison Beshur
Public Affairs Specialist
(Feb. 14, 2006)--To widen the scope of experience for architecture students at UTSA, the College of Architecture and the local chapter of the American Institute of Architects have partnered to present a six-part lecture series and exhibition.
The first lecture will feature Henry Glassie, an award-winning author and professor of folklore at Indiana University, and is set for 6 p.m., Wednesday, Feb. 15, in the Buena Vista Theater at the UTSA Downtown Campus. The lecture is free and open to all.
---
Today's headlines
Article tools
---
Glassie's lecture, "Craft, Tradition and Vernacular Theory: The Meaning of Things," will highlight how culture and experience influences buildings, writings and other things people create.
In addition to serving as president of the Vernacular Architecture Forum and the American Folklore Society, Glassie earned the Cummings Award for the best book on North American architecture in 2001, "Vernacular Architecture."
Julius Gribou, dean of the UTSA College of Architecture, said the lecture series is a very important enrichment component of the college's degree programs.
"It also provides a continuing education opportunity for the architectural community, and an expansion of the understanding of the value of architecture to the public," Gribou added.
For several years, UTSA has partnered with the American Institute of Architects (AIA) San Antonio chapter to coordinate lecture series events that complement architecture programs at UTSA and provide a venue for students to interact with practitioners in the field of architecture.
Greg Papay, a local architect and 2006 AIA San Antonio chapter president, said this year is the organization's 50th anniversary and the theme is "50/50: The Next 50 Years of Design Leadership."
"Our lecture series will help the public, students and the profession see national examples of how architecture practice is changing and then discuss and debate how these trends affect architecture in San Antonio," Papay said.
H-E-B, Lake Flato Architects and Kell Muñoz are sponsors of the 2006 lecture series. Other support for the series is provided by Alamo Architects, RVK and Ford Powell & Carson Architects, Madeline Anz Slay Architects, Sprinkle Robey Architects and Durand-Hollis Rupe Architects.
For more information about the lecture series, contact Eunice Hinojosa at (210) 458-3010.
------------------------------
Other events in the series
March 22 (Wednesday) -- "Full Service Architecture" by Leo Marmol of Marmol Radziner and Associates
April 19 (Wednesday) -- "Architecture: Design/Build" by Peter Gluck of Gluck & Partners
Sept. 20 (Wednesday) -- "Architecture/Development" by Jonathan Segal FAIA
Oct. 24 (Tuesday) -- Design Awards exhibition, Witte Museum
Nov. 15 (Wednesday) -- "Design work of TEN Arquitectos" by Enrique Norten of TEN Arquitectos