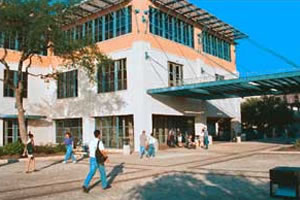 Business Building, UTSA 1604 Campus
UTSA College of Business MBA ranks in top 10
By Wendy Frost
Director of Communications, College of Business
(Feb. 23, 2006)--The UTSA College of Business recently was ranked as one of the top 10 business schools nationally for minority MBA students.
---
Today's headlines
Article tools
---
The ranking was compiled by the Princeton Review, which annually conducts surveys with university students and receives institutional data from universities to round out its rankings.
Business schools were judged by those offering the greatest opportunity for minority students based on the percentage of minority students, percentage of minority faculty and resources for minority students.
As the only UT System school ranked, the UTSA College of Business shared the spotlight with Howard University, American University, Thunderbird University and the University of San Francisco.
"With the average MBA program averaging 4.5 percent Hispanic students, UTSA is leading the nation with more than 31 percent of our graduate body being Hispanic," said Lynda de la Viña, College of Business dean. "This is crucial as the demographic shift in the United States will soon reflect a larger Hispanic population."