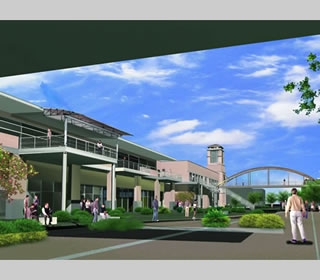 Artist's rendering of University Center expansion, paseo view
UTSA community invited to forums on UC expansion
By John Kaulfus
Executive Director of Student Activities
(Feb. 14, 2006)--This summer construction begins on the University Center expansion at the 1604 Campus. What does this mean for you? What will the building look like? How will this change the campus?
---
Today's headlines
Article tools
---
There will be open forums at noon and 5:30 p.m., Wednesday, Feb. 15, in the University Center Willow Room (2.02.12), 1604 Campus. UTSA students, faculty and staff are encouraged to attend a session.
In the University Center Phase III expansion, students will get a new ballroom to seat 650 guests, a new quiet study lounge, an active commuter lounge, a new game room, new office space for student organizations, an office complex for the Office of Student Activities, a coffee house and Subway sandwich shop, and six new meeting rooms of various sizes.
In addition to the new building, portions of the current University Center will be renovated including the dining hall and office spaces, plus a sports grill. Construction and renovation completion is scheduled for August 2008.
August 2008 is a long way off. In the meantime, the UTSA community can meet the architects at one of the forums and see what the new University Center will look like.
Watch for the new University Center Web site this summer to keep you up-to-date on the UC expansion and renovation, and see the latest issue of Sombrilla magazine for a four-page article on the project.
For more information, e-mail John Kaulfus.