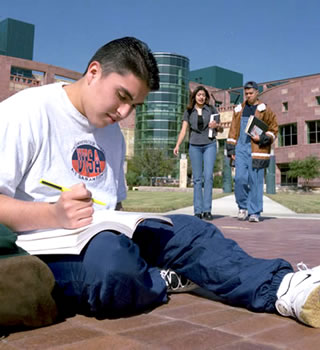 UTSA presents teleconference on `forgotten student'
By Adi Pavlovic
Student Writer, College of Liberal and Fine Arts
(Feb. 28, 2006)--The UTSA Office of Learning Communities will host a free teleconference, "The Forgotten Student: Understanding and Supporting Sophomores," from noon to 2 p.m., Thursday, March 9 in the University Center Retema Auditorium (2.02.02), 1604 Campus.
The teleconference will address strategies to inspire change with a focus on the challenges faced by university sophomores.
---
Today's headlines
Article tools
---
After freshmen advance to their second year, their challenges are not over--in fact, they are just beginning. Attrition statistics confirm this. What are student issues beyond the first year? Is there a sophomore slump? Are we offering the needed challenges and support for our second-year students?
At the event televised to UTSA, several experts will discuss students' second-year experiences and provide successful strategies to address the unique needs of this sometimes forgotten population.
Speakers will include Marcia Baxter Magolda, Distinguished Professor of Educational Leadership, Miami University (Ohio); Rajesh Bellani, dean of Colgate University's Sophomore Year Experience program; and Edward Chan, assistant professor of English and director of the Sophomore Year Experience program, Kennesaw State University.
The event is sponsored by the National Resource Center for the First-Year Experience, which hosts a number of conferences each year to address trends and issues in higher education affecting students in transition. The program, which started at the University of South Carolina, is centered on building and sustaining campus-based and international educational communities committed to the success of first-year college students and all students in transition.
For more information, contact Susan Colorado-Burt at (210) 458-7511.