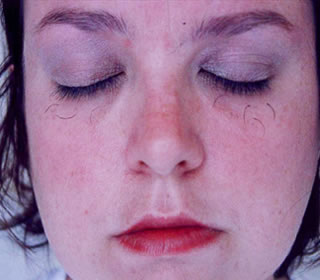 Untitled works by Jen Lopez (top) and J. Derrick Durham (bottom)
UTSA Satellite Space hosts 'Killing Two Birds with One Stone'
By Adi Pavlovic
Student Writer, College of Liberal and Fine Arts
(Feb. 9, 2006)--UTSA's off-campus gallery, the UTSA Satellite Space presents "Killing Two Birds with One Stone," an exhibit of art by UTSA students J. Derrick Durham (San Antonio) and Jen Lopez (Chicago), through Feb. 19.
Both artists utilize multiple media to investigate the concepts of private and public space and the human place within such spaces.
---
Today's headlines
Article tools
---
Utilizing print, video and specially produced texts, Lopez's work negotiates those tender spaces within the dynamic of interpersonal relationships.
Durham's multi-faceted, site-specific installation takes issue with public perceptions of current world events through the myopic lens of the media and the imposed distance such a filter places between events and the viewer.
The UTSA Satellite Space is at 115 Blue Star, Blue Star Contemporary Art Center, South Alamo and Probandt streets in downtown San Antonio. Gallery hours are noon-6 p.m., Friday-Sunday, or by appointment.
For more information contact Jasmyne Graybill at (210) 212-7146.