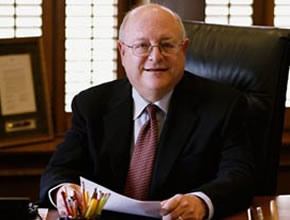 Mark G. Yudof
UT System chancellor named to President's Council
By Anthony de Bruyn
Assistant Director of Public Affairs and Assistant to the Vice Chancellor for External Relations, UT System
(Feb. 15, 2006)--Mark G. Yudof, chancellor of the University of Texas System, was appointed Monday, Feb. 13) by President George W. Bush to serve as a member of the President's Council on Service and Civic Participation. The two-year appointment to the presidential council - an initiative of the Corporation for National and Community Service - is effective immediately.
---
Today's headlines
Article tools
---
Yudof participated with other appointees in a swearing-in ceremony Feb. 14 at the Eisenhower Executive Office Building in Washington, D.C. Later in the day he participated in a roundtable discussion with council members and President Bush.
The President's Council on Service and Civic Participation encourages volunteer service and civic participation by individuals, organizations and schools. The council's key initiative is the President's Volunteer Service Award, which recognizes America's outstanding volunteers who have generously given their time and talent to notable causes.
Yudof also serves as a member of the Advisory Board of the National Institute for Literacy at the U.S. Department of Education.
Yudof became the ninth chancellor of the UT System on Aug. 1, 2002. He came to the chancellor's office from the University of Minnesota, where he had served as president since July 1997. He was a faculty member and administrator at UT Austin for 26 years, serving as dean of the School of Law from 1984 to 1994 and as the university's executive vice president and provost from 1994 to 1997. Yudof is a fellow of the American Academy of Arts and Sciences and a member of the American Law Institute.
For more information, contact Anthony de Bruyn at (512) 499-4363.