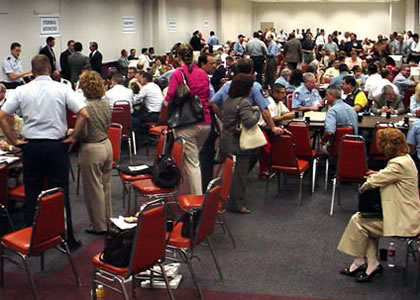 Bexar County Dark Screen cyber security exercise
CIAS awarded $3.1 million in defense bill
By Kris Rodriguez
Public Affairs Specialist
(March 3, 2006)—The UTSA Center for Infrastructure Assurance and Security (CIAS) was awarded $3.1 million in the 2006 fiscal year Defense Appropriations Bill to support community cyber security defend-and-attack exercises, and infrastructure assurance and security research.
Established in 2001, CIAS leverages San Antonio's infrastructure assurance strengths and bolsters research and educational initiatives in the field. The multidisciplinary research center is a partnership between academia, the information technology security industry and the local Air Intelligence Agency. CIAS addresses the technical and policy issues of information assurance and security and provides educational training.
---
Today's headlines
Article tools
---
CIAS is one component of UTSA's encompassing Institute for the Protection of American Communities (IPAC). Established in 2005, IPAC provides technical expertise and solutions to security challenges facing communities. IPAC also includes the UTSA Center of Excellence in Biotechnology, Bioprocessing, Education and Research (CEBBER) and the Center for Response and Security Engineering and Technology (CRSET).
"We are extremely excited about the news recognizing the great work that UTSA's CIAS and IPAC have been doing with the support of our senators and local congressional delegation," said Greg White, CIAS director. "They have been very supportive in helping to secure continued funding for our cyber security exercise partnership with the Air Intelligence Agency."
This month CIAS personnel participated in the Department of Homeland Security's CyberStorm National Cyber Security Exercise in Washington D.C. The center was selected after leading the highly successful Dark Screen cyber terrorism exercise for San Antonio in 2002 and 2003, bringing national attention as the first city in the nation to conduct a cyber security exercise.
Additionally, CIAS has conducted cyber security exercises for several communities throughout the U.S. and is in the planning stages for an exercise for the State of Texas this summer. CIAS personnel have worked on infrastructure assurance and security issues for financial services, telecommunications, oil and gas communities and the chemical sector in Houston, San Francisco, New York, Chicago, Miami and Baltimore.
UTSA is the first Texas university and one of 66 in the nation with the "Center for Academic Excellence in Information Assurance Education" designation by the National Security Agency (NSA). The designation means UTSA's curriculum and faculty meet or exceed NSA standards to teach information-assurance security and makes the university eligible to apply for grants from NSA and the National Science Foundation.