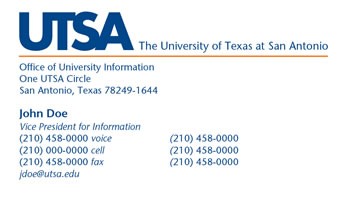 New UTSA business card template
Many 1604 Campus addresses to change April 3
By Marianne McBride Lewis
Associate Director of Public Affairs
(March 29, 2006)--Most of UTSA's 1604 Campus has a new address -- One UTSA Circle.
Starting Monday, April 3, all UTSA offices using the 6900 North Loop 1604 West address will change to One UTSA Circle. UTSA offices with other addresses, such as the Downtown Campus, UTSA's Institute of Texan Cultures, University Heights and UTSA on-campus housing will not be affected.
---
Today's headlines
Article tools
---
"The new address reflects a growing awareness of UTSA in San Antonio and beyond," said UTSA President Ricardo Romo. "Like many other universities of our size, we wanted to have an address that reflects our identity, and this small adjustment literally puts UTSA on the map."
The location of One UTSA Circle is the circle in front of the Main Building. New street signs will be installed within 10 days.
The U.S. Post Office will recognize both the old address, 6900 North Loop 1604 West, and the new address, One UTSA Circle, for at least 18 months.
Offices should continue to use old stationery, labels and business cards until depleted. "Our goal is to keep this a no-cost, low-cost transition," said Jennifer Storm, UTSA external affairs. The Office of University Publications will assist individuals and offices with questions about using printed stock with the Loop 1604 address.
UTSA's Web home page also is being updated to reflect the new address. Craig Evans, director of Web and multimedia services, encourages campus Web site custodians to make appropriate changes to their pages.
Storm said there was no cost to UTSA to make the address change and university officials had help from San Antonio Councilman Art Hall, the U.S. Post Office, Bexar Metro 9-1-1, and San Antonio Development Services during the process.
The U.S. Post Office will provide the address change to Yahoo Maps, Mapquest and other Internet-based locators. The data will be changed when each site does their next update.
Offices that order stationery online using the templates provided on the University Publications Web site should continue to do so. The template address will automatically be set to One UTSA Circle.
If you have any questions on the address change, please call Jennifer Storm at (210) 458-4009. For more information on ordering new printed pieces, call Frank Segura at (210) 458-4785.
A list of FAQs on the new UTSA address will be posted soon on UTSA Today.