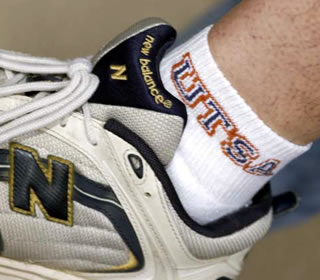 From top: Jimmy Moore, Kareem El Dahab (at left) with aspiring
apprentices and El Dahab's lucky socks.
(Photos by Mark McClendon)
'Apprentice' casting call draws hundreds at UTSA
By Alison Beshur
Public Affairs Specialist
(March 20, 2006)-Mostly decked out in pressed suits, heels and shiny shoes, and finely manicured hairdos, approximately 250 hopeful Donald Trump executives lined up early Friday for the sixth-season casting call of "The Apprentice" in the University Center at the UTSA 1604 Campus.
Jimmy Moore, a 27-year-old residence life coordinator for Century Campus Housing in Chisolm Hall at UTSA's 1604 Campus, answered his reasons for waiting several hours in line with a simple question, "Why not?"
---
Today's headlines
Article tools
---
"I try to take advantage of every opportunity," said Moore, who wore a pin-striped black-and-white suit with a blue shirt and yellow tie. "I don't want to look back and regret anything."
After receiving brightly colored wristbands, candidates filed into a conference room in groups of eight. One by one, applicants uniformly introduced themselves and took turns arguing a point of view to a current controversy, such as removing "under God" from the Pledge of Allegiance to the U.S. flag or feelings of fairness about nepotism in the workplace.
Casting directors said those selected for a second interview would hear from them within two days of Friday's initial casting call.
As he stood in line before reaching the group interview stage, Kareem El Dahab, a 23-year-old UTSA student, lifted his pants' leg to show off his lucky UTSA socks.
El Dahab said he already had overcome the toughest part - forgoing sleep for a chance at stardom.
When asked about his strategy for winning over the casting judges, El Dahab noted his lucky socks, favorite jeans, black wool coat and matching wool cap, and of course, his trump card, "I plan to wow them with my endearing personality."