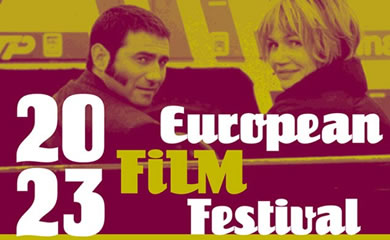 UTSA co-sponsors third European Film Festival
By Adi Pavlovic
Student Writer, College of Liberal and Fine Arts
(March 8, 2006)--The UTSA College of Liberal and Fine Arts and the Department of Modern Languages and Literatures will co-sponsor the third annual European Film Festival in San Antonio March 20-23 at the Santikos Bijou at Crossroads Cinema Café, Interstate 10 at Loop 410, in the Crossroads of San Antonio mall.
Admission is free and open to the public. Most showings are between 5 and 10 p.m. See the film schedule and film synopses at the European Film Festival in San Antonio Web site.
---
Today's headlines
Article tools
---
Additional co-sponsors of the special event are the consulates of France, Germany, Italy, Spain and Switzerland in Houston, City of San Antonio Office of Cultural Affairs, Program for Cultural Cooperation Between Spain's Ministry of Culture and United States Universities, and John Santikos, Santikos Theaters.
This year's four-day festival includes 15 recent films from Switzerland, Germany, Italy and Spain. All films will be shown twice in their original languages with English subtitles. At 5:30 p.m. each festival day, film industry professionals, scholars and critics will discuss European cinema with audience members.
For more information, contact Christopher Wickham, COLFA associate dean and UTSA cinema forum coordinator, at (210) 458-4350.
-----------------------------
European Film Festival in San Antonio
France
"A Hell of a Day" by Marion Vernoux, things start badly for a 24-year-old woman who works in a photo shop when she has a positive pregnancy test
"Far Away" by André Téchiné, three days, three stories and three characters reveal their sufferings and hopes
"Princes et princesses" by Michel Ocelot, animated comedy, a prince and princess go through a series of animal transformations with each kiss as they attempt to regain their original forms
Germany
"Blind" by Saskia Jell, short film on the crisis of a young meatpacking worker who falls for a handsome young diver. The director will discuss the film following a screening
"Sergeant Pepper" by Sandra Nettelbeck, drama/romance, a dog inherits his master's fortune and the owner's two children plan to steal the fortune
"The Miracle of Bern" by Sönke Wortmann, combines the social difficulties of life in post-war Germany with the euphoria of victory in the 1954 World Cup soccer championship
"The Ninth Day" by Volker Schlöndorff, real-life story of a Roman Catholic priest in a Nazi concentration camp who faces an ethical crisis in the choice between physical or spiritual survival
Greece
"Eternity and a Day" by Theo Angelopoulos, the final days of a famous writer who knows he is about to die as he searches for meaning as he shares his last hours with a young illegal immigrant from Albania, special screening honors festival sponsor John Santikos
Italy
"I'm Not Scared" by Gabriele Salvatores, kidnapping drama, boy discovers a child chained to the ground in a hole, but his family advises him to ignore the child
"La Febbre" by Alessandro D'Altari, comedy, an architecture student full of life and ideas dreams about opening a disco with his friends
"Once You're Born You Can No Longer Hide" by Marco Tullio Giordana, coming-of-age film on a son of wealthy entrepreneur who falls overboard; given up for dead, he is rescued by an immigrant fishing boat
Spain
"Guarapo" by Santiago Riós and Teodoro Riós, drama, considered to be first professional film made and produced entirely in the Canary Islands, focuses on emigration and abusive exploitation of landowners, shot partly on location in Canary Islands, commemorates the 275th anniversary of the arrival of the Canary Islanders in San Antonio.
"The Dog in the Manger" by Pilar Miró, drama, based on a Lope de Vega play, the story of a prominent 17th century noblewoman who falls in love with her personal secretary who is promised in marriage to one of the countess's maids
"Thesis" by Alejandro Amenábar, thriller, a student finds a film in which a girl is tortured to death and discovers the girl was a student at her university
"Tierra" by Julio Medem, an exterminator tries to rid a small town of tiny grubs and becomes involved with two very different and beautiful women
Switzerland
"Escape to Paradise" by Nino Jacusso, docudrama, a refugee Kurdish family seeks asylum in Switzerland
"South of the Clouds" by Jean-François Amiguet, road movie about quiet, aging farmer from a village in the Swiss Alps who decides to take a train ride to Beijing
"Strong Shoulders" by Ursula Meier, a high-school athlete is manically devoted to becoming the fastest runner in the world