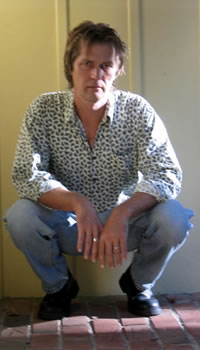 David Gabbard
UTSA hosts globalism research conference March 31
By Adi Pavlovic
Student Writer, College of Liberal and Fine Arts
(March 6, 2006)--The UTSA College of Education and Human Development will host its third annual university-wide research conference Friday, March 31 in Business Building Room 2.01.02 at the 1604 Campus. The event is free and open to the public.
With the theme, "Knowledge and Power in a Global Economy: Globalism and Its Effect on Education," researchers from a variety of disciplines will discuss education in our technological world.
---
Today's headlines
Article tools
---
The keynote speaker for the event is internationally known writer David Gabbard, who will be followed by six panelists speaking for 15 minutes each and a brief discussion led by a graduate student.
The conference schedule is:
11 a.m.-12:15 p.m. -- David Gabbard lecture
12:15-1:30 p.m. -- Lunch break
1:30-3:30 p.m. -- Panelists
3:30-4 p.m. -- Audience questions and disucssion
4:15-5:30 p.m. -- Graduate student discussion with David Gabbard
A professor of curriculum and instruction at East Carolina University's College of Education, Gabbard is co-founder and editor of the online public policy journal, Public Resistance.
He received his bachelor's degree in English from Centre College of Kentucky in 1982. He earned an M.Ed. degree in sociology and an Ed.D. degree in the history and philosophy of education, both from the University of Cincinnati.
An author and editor, Gabbard has written popular education reform books such as "Education as Enforcement: The Militarization and Corporatization of Schools," "Defending Public Schools: Education Under the Security State" and, most recently, "Knowledge and Power in the Global Economy: The Effects of School Reform in a Neoliberal/Neoconservative Age." Read many of his publications at the Public Resistance Web site.
Panelists, their departments and topics at the conference include Elizabeth Murakami Ramalho, educational leadership and policy studies, "Rethinking the 'International' in Global Education"; Don Lien, business, "Globalization and Transnational Education"; Steven Kellman, English, classics and philosophy, "Globalization and the Tyranny of Monoculture"; Kathleen Hancock, political science and geography, "Controlling Knowledge: China and the Internet"; Catherine Nolan Ferrell, history, "NAFTA and CAFTA: Campesino Responses to 'Free' Trade in Southern Mexico and Guatemala" and Deborah Armstrong, biology, "The Latest Advances in Brain Research: Global Implications for Memory and Learning."
The conference was organized by Rosalind Horowitz, UTSA professor of interdiscipinary learning and teaching, and educational psychology; Tom Ricento, UTSA professor of bicultural-bilingual studies; and Felecia Briscoe, UTSA assistant professor of educational leadership and policy studies.
For more information, e-mail Felecia Briscoe.