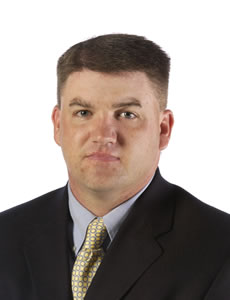 Kyle Stephens
Kyle Stephens named sports information director
(March 1, 2006)--The UTSA Athletic Department announced Tuesday the hiring of Kyle Stephens as sports information director effective immediately.
Stephens, who served as assistant sports information director at UTSA since October 2003, replaces Rick Nixon, a 19-year veteran of the department who left Jan. 6 to become associate director for the Division I Women's Basketball Championship in Indianapolis, Ind.
---
Today's headlines
Article tools
---
"We were sorry to lose a valued employee like Rick Nixon, but we are very fortunate to have a someone like Kyle on our staff who is capable of stepping up and taking over the role of sports information director," Athletic Director Lynn Hickey said. "Kyle is experienced and brings us a high level of expertise in media operations and relations. He has done an excellent job for our department the past three years overseeing several sports and bringing innovations to our program. Kyle is well respected by his peers and we are happy to give him this promotion and opportunity."
Stephens will oversee day-to-day operations of the sports information office and media relations for all 16 of the department's intercollegiate sports and continue to serve as editor of the official UTSA Athletics Web site.
During his tenure as assistant sports information director at UTSA, Stephens was the primary contact for the men's and women's cross country and track and field, men's and women's golf, and softball and volleyball teams.
He was the assistant media liaison for the 2004 NCAA Men's Final Four and 2005 NCAA Women's Volleyball Championship and will serve as the local media coordinator for the 2006 Women's Basketball Regional to be held at the AT&T Center on March 25 and 27.
Stephens came to UTSA in October 2003 after serving as a media relations assistant at the University of Texas at Austin from 2001-03. There he was the primary contact for the men's and women's track and field programs and the secondary contact for men's basketball, as well as helping with the daily media operations with the football team.
Stephens also was the co-editor for the home football game programs and served as media director for the 2003 Big 12 Outdoor Track and Field Championships and as assistant media director for the 2002 and 2003 Clyde Littlefield Texas Relays.
He was a sports information graduate assistant at Texas A&M from 1998-2001. There he helped coordinate publicity for the men's and women's cross country and track and field teams, as well as assisting with media services for all home football, basketball, soccer and baseball events.
A native of Kountze, Texas, Stephens earned his bachelor's degree in kinesiology with an emphasis in sport management from Texas A&M University in 1998. He has worked more than 10 NCAA events and four bowl games, including the Snow Bowl — the 2000 Independence Bowl overtime thriller between Mississippi State and Texas A&M. He is a member of the College Sports Information Directors of America (CoSIDA). Twelve of his publications have been honored by CoSIDA, including four as Best in the Nation.