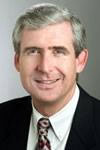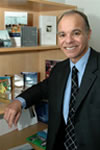 From left, in order of their campus visits, are Steven Angle,
William Covino and Rosalie Ambrosino
Provost candidates to visit UTSA March 20-24
By David Gabler
Assistant Vice President for Communications
(March 16, 2006)--A search committee seeking a new provost at The University of Texas at San Antonio selected finalists to meet with faculty, staff and students March 20-24 in public forums at UTSA.
In the past few days, two of the candidates withdrew from consideration. Neal Smatresk and Anthony Garro have withdrawn from the interview process. Garro has accepted a provost position at a university in the Northeast. Smatresk has decided to continue in his position of vice chancellor for academic affairs at the University of Hawaii at Manoa.
---
Today's headlines
Article tools
---
Each candidate will visit UTSA to meet with faculty, staff, students and San Antonio community members.
The candidates are (in order of campus visits):
Steven Angle, dean of the College of Natural and Agricultural Sciences, University of California, Riverside
William Covino, dean of the Dorothv F. Schmidt College of Arts and Letters - Multi Campus, Florida Atlantic University
Rosalie Ambrosino, interim provost and vice president for academic affairs, and vice president for student affairs, University of Texas at San Antonio
"The 18 members of the search committee worked with great dedication in this process to find candidates for provost," said James McDonald, chair of the UTSA Provost and Vice President for Academic Affairs Search Committee and professor and chair of the Department of Anthropology. "We encourage the university community to participate in the open forums this month with these outstanding candidates. We started with a strong pool of distinguished applicants, and are confident that a finalist will serve as a steward for UTSA's mission to move to the next level and premier research university status."
UTSA President Ricardo Romo will choose one of the candidates to succeed Guy Bailey, who left UTSA last December to become chancellor of the University of Missouri - Kansas City. "The UTSA community is indebted to Jim McDonald and the search committee for their work in nominating five outstanding candidates for this crucial position at the university," Romo said. "Each of these individuals is distinguished for his or her exemplary academic credentials; dedication to teaching, research and service; and breadth of administrative experience."