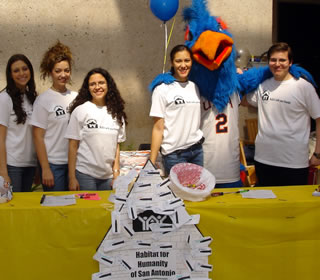 UTSA PRSSA team: Amber Stanush, Courtney "Shay" Syfert,
Tammy Fernandez, Ja-Net Rea, Rowdy Roadrunner
(guest team member) and Christian Villarreal
(Photo by Mark Este)
UTSA students recruit volunteers for Habitat for Humanity
By Kareem el Dahab
Student Writer, College of Liberal and Fine Arts
(March 13, 2006)--The UTSA Public Relations Student Society of America (PRSSA) Bateman Competition team enlisted 30 volunteers Feb. 27 for Habitat for Humanity of San Antonio (HFHSA), which is celebrating its 30th anniversary.
The effort was part of UTSA's entry in the national Bateman competition, which recognizes local student PR campaigns.
The PRSSA Bateman team assembled at Sombrilla Plaza on the UTSA 1604 Campus with the goal of recruiting 30 volunteers as a part of its "Tell a Friend, Ask a Friend, Gift a Friend" (TAG) campaign.
---
Today's headlines
Article tools
---
"We really want to thank the community for supporting us, especially UTSA students," said Bateman Team member Tammy Fernandez. "Without them, we couldn't have reached our goal. It's great to know that so many students want to give back."
The volunteering goal, part of the annual PRSSA Bateman competition, challenges PRSSA chapters to create a public relations campaign for a selected client. This year, the UTSA PRSSA chapter represented HFHSA. The PRSSA national competition finalists will be announced in June.
Faith Lytle founded HFHSA in 1976 as the first United States affiliate of Habitat for Humanity International. Habitat for Humanity is responsible for giving thousands of low-income families affordable housing. Today, Habitat for Humanity has built more than 200,000 houses, sheltering more than 1,000,000 people in more than 3,000 communities worldwide.
For more information, contact Christian Villarreal, UTSA Bateman team, at (210) 559-5440.