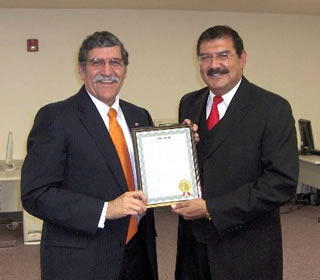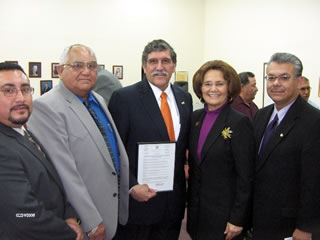 Top photo: UTSA President Ricardo Romo and Crystal City Mayor
Raul Gomez. Bottom photo: In Carrizo Springs, from left, are
CSCISD Board President Nicholas Rodriguez, Mayor Ralph Salinas,
Romo, CSCISD Superintendent Cecilia Moreno and Dimmit County
Judge Francisco Ponce.
President visits officials in Middle Rio Grande area
By Tim Brownlee
Assistant Director of Public Affairs
(March 21, 2006)--UTSA President Ricardo Romo recently visited mayors and school superintendents in the Middle Rio Grande area of South Texas to encourage them to talk with their students about attending UTSA.
Romo began the visits at Del Rio, proceeded to Crystal City and Eagle Pass, and ended the day at Carrizo Springs. The visits were part of UTSA's efforts to increase the number of students from South Texas attending UTSA.
---
Today's headlines
Article tools
---
Crystal City school superintendent Alberto Gonzales said, "President Romo, today you make history as the first university president to ever visit Crystal City."
"We were excited to visit with the officials in the Middle Rio Grande area," said Romo. "I hope to see many of their students furthering their education at UTSA because we know they can bring a lot to the university, and we have a lot to offer them in return."