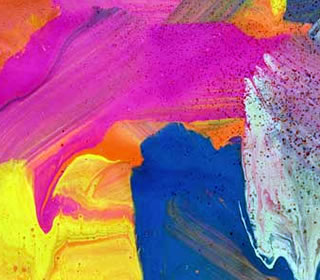 Top photo: From left, Melissa Hernandez, Olivia Hernandez and
Ricardo Romo. Bottom photo: Painting by Olivia Hernandez
UTSA celebrates 'Week of the Young Child'
By Kris Rodriguez
Public Affairs Specialist
(April 5, 2006)--A crowd of parents and children gathered Monday morning to cheer UTSA President Ricardo Romo as he read a proclamation declaring "The Week of The Young Child" on the 1604 Campus.
Children enrolled at the center, including UTSA counselor Melissa Hernandez and her 21-month-old daughter Olivia, presented framed artwork created at the center to Romo and Interim Provost Rosalie Ambrosino.
---
Today's headlines
Article tools
---
"I think the teachers take great care of the kids and I love having Olivia close by so we can both participate in events like this," said Hernandez.
The breakfast was one of two events planned this week commemorating "The Week of The Young Child."
On Friday, parents and children enrolled in the center are invited to Spring Fest from 5 to 7 p.m. The annual celebration is sponsored by the National Association for the Education of Young Children, the world's largest early childhood education association with more than 100,000 members in 300 locations.
Established in spring 2003, the center currently serves 94 children and is enrolling children from a waiting list for the summer and fall semesters. Interested parents can place their child on the waiting list at the Child Development Center Web site.
For more information, call the UTSA Childcare Development Center at (210) 458-6364.