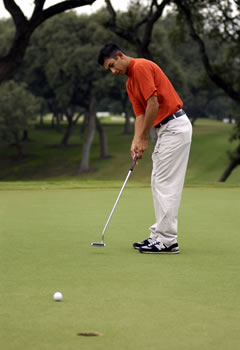 John Elizondo
UTSA's Elizondo wins SLC Men's Golf Championship
By Kyle Stephens
Sports Information Director, UTSA Athletics
(April 20, 2006)--UTSA senior John Elizondo (San Antonio/Brackenridge) carded a final-round 75 and hung on for a one-shot win and the UTSA men's golf team surprised for runner-up honors Wednesday on the final day of the Southland Conference Men's Golf Championship held at Deerwood Country Club (par 72 / 7,108 yards) in Kingswood, Texas.
Elizondo carded a five-under par 67 on the opening day and followed that with a one-under 71 on Tuesday to enter the final round with a four-shot lead over Aaron O'Callaghan of Southeastern Louisiana and Bobby Hutcherson of Texas State. O'Callaghan, playing in the sixth to last group with Elizondo, and Hutcherson struggled to a 77 and 79, respectively, but Lamar's Casey Clendenon and Southeastern Louisiana's Peter O'Keefe made strong moves to make things interesting.
---
Today's headlines
Article tools
---
O'Keefe turned in a two-under 70 to close at 216, while Clendenon, who was playing in the final threesome, fired a 71 to finish one shot back of Elizondo's three-under 213.
"It was a really long wait for all the groups to come in," said Elizondo, who becomes UTSA's second SLC individual medalist (Magnus Dohlvik, 1997). "I didn't play great today and there was a lot of sitting around on the 18th green waiting for those scores to come in. It was a relief when I found out I won and it feels really good to end my college career on this note."
"I had a chance to win at Rice earlier this year and I worked really hard over the last few weeks to get ready for this tournament. The 67 on Monday gave me a lot of confidence and even though the course and the pin placements got a lot tougher on the final two days, I was able to play steady and hold on."
"John turned in a remarkable score on a tough golf course," said head coach Chris Donielson, who now has led UTSA to a pair of conference runner-up finishes in the last four years. "They use Deerwood for pro qualifying and to be three under for 54 holes is fantastic. I couldn't be prouder of John to wind up his UTSA career by winning a conference championship."
Elizondo's 213 led UTSA to a runner-up finish behind 16th-ranked Lamar in the team standings. The Roadrunners carded rounds of 292, 295 and 293 for an 880, nine strokes behind the Cardinals (871) and one ahead of Louisiana-Monroe (881), which fell after a final round 302. Southeastern Louisiana and defending champion Texas-Arlington tied for fourth (883), while Sam Houston State (901), Stephen F. Austin (904), McNeese State (905), Nicholls State (906) and Texas State (910) rounded out the field.
There is no question this is the best field of players in the Southland Conference in my six years at UTSA," Donielson said. "Lamar was 16th in the country coming in and had won six of 12 tournaments. Texas-Arlington is a solid top 50 team and Southeastern Louisiana was coming off a big win at their home tournament on a very difficult course where we finished 10th. We certainly rose to the occasion and exceeded expectations with the way we played."
Also for UTSA, freshman Kyle Collins (San Antonio/Clark) tied for 15th with a 73-75-73—221 and sophomore Nick Olivarri (Converse/Judson) tied for 17th with a 74-75-73—222. Junior Matt Johnston tied for 27th (227) and sophomore Shane Costelloe finished 33rd (229).
"We changed our approach to the conference tournament this year and I think it produced great results," Donielson said. "I spaced out our spring events more so that we had some time off to regroup before the conference tournament. I also wanted the players to relax and have fun and we did that. We had a really good week of preparation and the guys felt really good about things going in. After each round, we kept them loose by having a late lunch, a short practice session back at the course and then we went out to the batting cages, putt-putt course and go-cart track so they could get their minds off the tournament. I wasn't sure how we would respond on the second day but after the way we played this week, I'll keep that idea."
For more information, visit the UTSA Athletics Web site.
------------------------------
Southland Conference Men's Golf Championship Results
Deerwood Country Club (par 72 / 7,108 yards)
Kingwood, Texas
Team Standings:
1. Lamar 296-287-288—871
2. UTSA 292-295-293—880
3. Louisiana-Monroe 291-288-302—881
4. (tie) Southeastern Louisiana 295-297-291—883; Texas-Arlington 287-296-300—883
6. Sam Houston State 294-303-304—901
7. Stephen F. Austin 301-298-305—904
8. McNeese State 302-301-302—905
9. Nicholls State 305-302-299—906
10. Texas State 307-296-307—910.
Individual Top Five (plus UTSA players):
1. John Elizondo, UTSA 67-71-75—213
2. Casey Clendenon, Lamar 74-69-71—214
3. Peter O'Keefe, Southeastern Louisiana 71-75-70—216
4. (tie) Tim Kunick, Louisiana-Monroe 74-69-75—218; Zack Reeves, Texas-Arlington 69-74-75—218 Matthew Carvell, Southeastern Louisiana 72-74-72—218; T-15
Kyle Collins, UTSA 73-75-73—221; T-17
Nick Olivarri, UTSA 74-75-73—222; T-27
Matt Johnston, UTSA 78-74-75—227; 33
Shane Costelloe, UTSA 78-79-72—229