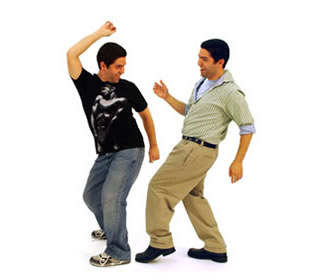 From "My Inner Conversation" by UTSA's Robby Ramirez
Blue Star art center presents 'Fire in the Belly' exhibit
By Tim Brownlee
Assistant Director of Public Affairs
(April 6, 2006)--The Blue Star Contemporary Art Center presents the exhibit, "Fire in the Belly," from April 6 to June 18. The exhibition features the works of students from UTSA, Trinity University and San Antonio College.
An opening reception is 6-9 p.m., Thursday, April 6. The event and exhibition in the Blue Star project space, Suite 116, are free and open to the public.
The gallery at South Alamo and Probandt streets, south of downtown, is open noon to 6 p.m., Wednesday-Sunday.
---
Today's headlines
Article tools
---
As part of Blue Star's education outreach programming, the annual exhibition highlights works created by local graduating undergraduate and graduate students. The curators of this year's show are Dayna De Hoyos and Chuck Ramirez. The exhibit offers artists the opportunity to discuss their work and receive critiques from peers and professors and to display their art in a large venue.
Blue Star Contemporary Art Center is a non-collecting art museum in SanAntonio, Texas, that advances the growth and understanding of contemporaryart, artists and the curatorial process. Through exhibitions and a varietyof programs, Blue Star is an active participant in the development ofregional, national and international contemporary art and provides a livelyforum for the visual arts dialogue.
For more information, call (210) 227-6960.
------------------------------
'Fire in the Belly' participating artists
UTSA
Stacy Berifein
Roberta Buckles
Richie Budd
Steve Carter
Joseph Cohen
Melody Fernandez
Thomas Hopkins
Brian Jobe
Soomin Jung
Mimi Kato
Pedro Luera
Enrique Martinez
Robert Ramirez
Adrien Ryder
Young Wook Song
Russell Stephenson
Wendy Thorn
Anabel Toribio
Josue Morales Urbina
Stephen Zivadinovic
George Zupp
San Antonio College
Nicholas Hay
Kristy Perez
Beth Shapiro
Trinity University
Elizabeth Glaessner