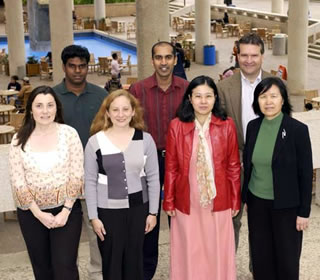 H-E-B dissertation fellowships winners: (back row, from left) Satish
Penmatsa, Surendranath Baliji and Brian Daugherty; and (front row)
Linda Winterbottom, Evelynn Mitchell, Hsiu-Jy (Sandy) Ho and Li
Jia. Michael Campbell was unavailable for the photo.
(Photo by Mark McClendon)
H-E-B gift funds eight UTSA dissertation fellowships
By Adi Pavlovic
Student Writer, College of Liberal and Fine Arts
(March 24, 2006)--H-E-B Grocery Co. has given $50,000 to UTSA for graduate scholarships. Part of the donation was distributed to students as dissertation fellowships.
From a pool of 35 applicants, eight UTSA doctoral students recently received the awards, after being selected by a committee of doctoral program chairs. Two students in the College of Education and Human Development (COEHD) received awards of $2,000 each and six students from a range of study areas received $1,666 each.
---
Today's headlines
Article tools
---
"We hope that these funds will assist students to conduct and complete their research projects," said Dorothy Flannagan, associate professor of psychology and dean of the UTSA Graduate School. "We had many applications that described high-quality research projects being conducted by students, and the quality of students' research says much about the excellent training and mentoring they are receiving from the doctoral faculty here at UTSA. We wish we were able to fund more of the projects."
The fellowships were awarded to students working toward doctorate degrees in education, electrical engineering, computer science, business administration, English, environmental sciences and biology.
The scholarship winners are:
Surendranath Baliji, who is working on a doctorate in cell and molecular biology major, is a graduate research assistant and student. He has published six works and plans to research viral pathogenesis with a concentration in disease resistance. Baliji's dissertation is titled "Role of Spinach Curly Top Virus Pathogenicity Factor in Alteration of Cellular Metabolism in Plants."


Michael Campbell is completing his doctorate in culture, literacy and language. His dissertation is titled "Becoming Narratives of Transformation in the Lives of Women Immigrants in a Community College ESL Classroom." After graduating in the fall of 2006, he plans to gain a tenure-track position at a four-year institution that has a close relationship with community colleges.


Brian Daugherty is earning his doctorate in business administration with an emphasis in accounting. Currently a student and instructor at UTSA, next fall he will begin a position as assistant professor at the University of Wisconsin - Milwaukee. His dissertation is titled "An Experimental Analysis of Potential Unintended Consequences of Sarbanes-Oxley on Auditors Professional Judgments and the Expectation Gap."


Hsiu-Jy Ho will complete a doctorate in electrical engineering with a concentration in computer architecture. Ho has published 7 works, and her dissertation is titled "Autonomous Performance Optimizing Control Methodology for Resource- Sharing Systems." After graduating in the fall 2006, she plans to become an electrical engineer in the high-technology industry and a college professor.


Li Jia is working on doctorate in culture, literacy and language. She has published 10 works in journals, textbooks, dictionaries and books. Her dissertation, "The Invisible and the Visible: Language Socialization in the Chinese Heritage Language School," focuses on the dynamic nature of the American-born and China-born children in the Chinese heritage language school in the process of language socialization. She plans to teach Chinese as a foreign language at the university level and promote Chinese heritage and culture.


Evelynn J.R. Mitchell moved to San Antonio from Mentor, Ohio, in 1998. With a doctorate will be in environmental science and engineering, she plans to graduate in spring 2007. Mitchell has held positions as a student representative to the ESE Doctoral Studies Committee, Field Trip Coordinator for the 2009 International Congress of Speleology and a physics tutor for general physics classes. She plans to teach and research at the university level. Her dissertation will develop a method to determine storativity in a confined aquifer based on pressure differences created by seismic waves.


Satish Penmatsa is an instructor and student in the UTSA Department of Computer Science. He plans to become a tenured professor at a major research university. Penmatsa has published work for the Proceedings of the 20th and 19th IEEE International Parallel and Distributed Processing Symposium, International Journal of Computational Science and Engineering, Concurrency and Computation, and IEEE International Conference on Cluster Computing. His dissertation is titled "Game Theory-Based Job Allocation/Load Balancing in Distributed Systems and Application to Grid Computing."


Linda Winterbottom is a Ph.D. student in English literature and will graduate in spring 2007. She has published poetry in The Passionfruit Review, La Frontera and The Sagebrush Review. Winterbottom wants to teach literature and creative writing at the college level as well as produce works of fiction and poetry. Her dissertation, "Taking it with Them," will explore how women negotiate identity and displacement through creative gestures, storytelling and each other.